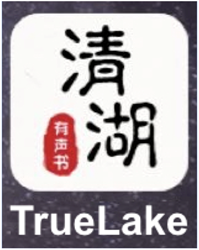 HONG KONG (PRWEB) March 20, 2019
TrueLake Holdings Limited ("TrueLake"), a leading publisher of Mandarin audiobooks by several of the world's best-selling authors, today announced it had filed a copyright infringement lawsuit in Chaoyang District Court in Beijing, China, against Xi Da (Shanghai) Network Technology Co., Ltd. ("Ximalaya"), an Internet audio platform in China, purported to have over 400 million registered users. The lawsuit filing states that TrueLake has evidence notarized by the Beijing Guoli Notary Public Office of publicly available data on Ximalaya's website showing that unauthorized copies of Dan Brown's book "The Da Vinci Code" had been downloaded or accessed by its listeners over 1.7 million times.
In addition to publishing the Mandarin audiobook version of "The Da Vinci Code," TrueLake produces and distributes Mandarin audiobooks of Inferno by Dan Brown, "A Game of Thrones" by George R.R. Martin, and "IT," "The Green Mile," "Rita Hayward and the Shawshank Redemption" by Stephen King. In cooperation with the Beijing Guoli Notary Public Office, TrueLake has been formally documenting evidence of apparent copyright infringement of its other titles on the Ximalaya website and on other websites.
Commenting on the case, Cliff Miller, CEO of TrueLake, said, "A lawsuit can be bittersweet medicine for all parties. However, if this leads to Ximalaya developing a robust system to identify, eradicate and prevent infringement in its own audio library, it will be a huge win for everyone, including Ximalaya." Miller added, "There's ample reason for optimism here, not only in obtaining a positive judgment in this particular case, which we believe is clear cut, but in general. Many executives in the Chinese audiobook publishing industry have come to embrace intellectual property rights. TrueLake is extremely bullish about the future."
The case number in Chaoyang District Court in Beijing, China is (2018) Chao Yu Min Zi No. 137185.
TRUELAKE COMPANY OVERVIEW: TrueLake Holdings Limited is an audiobook publisher, specializing in Mandarin titles. It produces and distributes bestselling titles such as "The Story of Yanxi Palace," based upon the top TV series in China in 2018, as well as Mandarin versions of international mega-hits by authors like Dan Brown, Steven King and George R.R. Martin. TrueLake recently began producing audiobooks for children, including a Mandarin-English bilingual version of "Diary of a Wimpy Kid."
TrueLake's distribution channel includes the major Internet audio platforms in China, reaching over 95% of the Chinese audiobook market. Its sales and marketing efforts are strengthened through domestic programming by an affiliate radio network and its own Internet radio station broadcasting to a worldwide audience.
# # #
Contact:
Rachel Tarlow Gul
Over the River Public Relations
rachel(at)otrpr.com, 201-503-1321
Cliff Miller
TrueLake
cliff(at)truelake.com, 415-324-9903