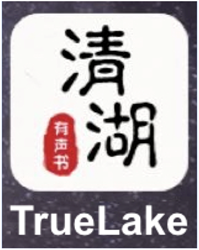 "I had hoped that our first infringement lawsuit against Ximalaya last year over "The Da Vinci Code" would encourage them to clean up what we saw as widespread infringement problems.
HONG KONG (PRWEB) May 19, 2020
TrueLake Holdings Limited ("TrueLake"), a leading publisher of Mandarin audiobooks by many of the world's best-selling authors, today announced its subsidiary, Beijing TrueLake Consulting Limited, had filed a second copyright infringement lawsuit in the Intellectual Property Court of Beijing, China against Shanghai Ximalaya Technology Co., Ltd ("Ximalaya"), an Internet audio platform in China, purported to have over 500 million registered users. The lawsuit filing states that TrueLake has evidence notarized by the Beijing Guoli Notary Public Office of publicly available data on Ximalaya's website showing that unauthorized copies of Gao Yang's book "Red Top Businessman Hu Xueyan" had been downloaded or accessed by its listeners over 20 million times.
In addition to gathering evidence about the audiobook "Red Top Businessman Hu Xueyan," TrueLake has formally documented evidence of alleged distribution of unauthorized copies of several of its other titles on the himalaya.com and ximalaya.com websites, which are also made available through Himalaya Media's and Ximalaya's mobile app platforms.
The case number in the Intellectual Property Court of Beijing, China is (2020) Jing 73 Min Chu Number 145.
TRUELAKE COMPANY OVERVIEW: TrueLake Holdings Limited is an audiobook publisher, specializing in Mandarin titles. It produces and distributes best-selling titles such as "The Story of Yanxi Palace," based upon the top TV series in China in 2018, as well as Mandarin versions of international mega-hits by authors like Dan Brown, Steven King, George R.R. Martin. In 2019 TrueLake began producing audiobooks for children, including a Mandarin-English bilingual version of "Diary of a Wimpy Kid" by Jeff Kinney.
TrueLake's distribution channel includes the major Internet audio platforms in China, reaching over 95% of the Chinese audiobook market. Its international sales efforts are shored up by its distribution network to over 40,000 libraries, schools and institutions, as well as to individual users.
Contact:
Rachel Tarlow Gul
Over the River Public Relations
rachel@otrpr.com, 201-503-1321
Cliff Miller
TrueLake
cliff@truelake.com, 415-324-9903