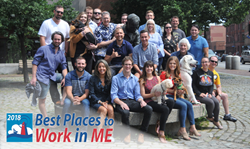 We're honored to be named one of Maine's Best Places to Work in Maine because it highlights all of the efforts that our staff puts in on a daily basis to live joyfully and be positive. – Haj Carr
PORTLAND, Maine (PRWEB) August 27, 2018
Trueline has been voted a Best Places to Work in Maine for the third year running.
It is one of 75 Maine companies to receive the designation, and its ranking among those 75 companies will be announced on October 9 at the Best Places to Work Awards Gala.
The contest is held annually by a third-party group comprised of state agencies, state councils and Maine businesses. Employees respond anonymously to a survey provided by the group, answering questions about work culture, management, office accommodations, pay, policy, room for advancement, and quite a lot more.
They also provid anonymous feedback, which Trueline and the other business participating in the contest will receive leading up to the ceremony.
"All the credit goes to our employees," says TrueLine CEO Haj Carr. "It's a pleasure to work alongside friends and learn from a diverse team all while building a successful business that positively impacts our clients."
Perks of working at Trueline include an annual rafting trip; tastings for beer, wine and tequila; a Foosball table and nap room (in separate areas); the option, for experienced employees, to work remotely and flexibly; competitive salaries with benefits; and an overall approach that puts employees first.
"We actively listen to what our employees say and need," Carr says. "That's been key."
About Trueline
Trueline is an independent, full-service marketing and consulting business based in Portland, Maine, that provides strategy, content and design for businesses, nonprofits and individuals in Maine and throughout the world.