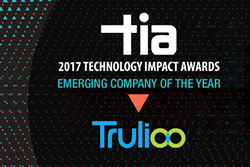 "Trulioo is thrilled to play a key role in helping businesses navigate ever-changing financial regulation and compliance hurdles, while continuing to move forward and grow as a company."
Vancouver, B.C. (PRWEB) June 23, 2017
Trulioo, the leading global identity verification company, today announced it has been named Emerging Company of the Year at the Technology Impact Awards (TIA) sponsored by BC Tech Association.
The longest running and largest technology awards in the province, the TIAs celebrate the best of BC's tech industry. Companies are honored in 10 categories, divided among three distinct groups – technology, people and company, which recognize outstanding technology, companies and individuals.
In their 24th year, the awards were presented last night at a gala held at the Vancouver Convention Centre in front of more than 1,000 technology leaders, innovators and industry supporters.
"We are truly honored to receive this award," said Zac Cohen, GM of Trulioo. "It's an exciting time for Canadian fintech, as a sector we're experiencing exponential growth, and Trulioo is thrilled to play a key role in helping businesses navigate ever-changing financial regulation and compliance hurdles, while continuing to move forward and grow as a company."
Trulioo's real-time identity verification platform, GlobalGateway, provides secure access to more than 200 unique global data sources, from over 60 countries, to instantly verify more than 4 billion consumers. Special focus is targeted at emerging markets, where people have little to no access to the traditional banking system. By comparing registration information against information that has been collected and hosted by trusted data sources, GlobalGateway offers transparent identity verification, in real-time, through a single integration.
The gala gathered together a multitude of sectors, including fintech, software, cleantech and health and medical technology.
A sold-out event, the gala was hosted by BC Tech – an association dedicated to developing and advocating on behalf of the technology industry.
About Trulioo
Trulioo is a global ID verification company that provides advanced analytics from traditional and alternative data sources to instantly verify identities online. The company's mission is to solve global problems associated with verifying identities online by powering fraud prevention and compliance systems for customers worldwide, in an effort to increase trust and safety online. Trulioo's bank-grade electronic identity verification (eIDV) platform, GlobalGateway, enables businesses to perform frictionless identity verification for more than 4 billion people in over 60 countries via more than 200 data sources – the widest coverage in the market. GlobalGateway helps businesses comply with Anti-Money Laundering (AML) and Know Your Customer (KYC) identity verification needs and provides a reliable and trustworthy way for businesses to evaluate new and existing users through one single API. With the recent addition of ID Document Verification to GlobalGateway, which analyzes, verifies and authenticates 3,500 different types of identity documents from nearly every country in the world, Trulioo is the only provider in the market to offer eIDV, AML watchlist screening, and ID Document Verification through a single integration. For more information visit http://www.trulioo.com.
About the BC Tech Association
Formerly known as the BCTIA, the BC Tech Association (BC Tech) is guided by its vision to make BC the best place to grow a tech company. For more than 20 years, BC Tech has helped to grow the province's tech ecosystem to over 9,000 companies that employ nearly 90,000 people, and that now outpaces the resource industry in terms of economic contribution to the province. BC Tech's mission is to help tech companies grow, and it is supported by its core values: Be of Service, Succeed Together, and Pay it Forward. http://www.wearebctech.com.