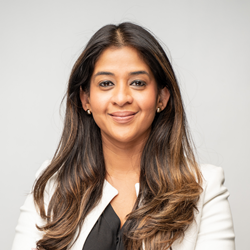 "We are very excited to welcome Shradha to the team," said Steve Munford, Trulioo CEO. "She brings the right set of skills and experience to attract and retain top talent as we continue to build a diverse, engaged, and high-performing team across the globe."
VANCOUVER, British Columbia (PRWEB) November 01, 2021
Trulioo, the leader in global identity verification, today announced the appointment of Shradha Mittal as Senior Vice President of People & Culture. In this role, Mittal will lead all aspects of people operations and talent acquisition strategy, including employee retention and engagement, employment branding, diversity and inclusion initiatives, and professional development programs aligned with business goals.
"We are very excited to welcome Shradha to the team," said Steve Munford, Trulioo CEO. "She brings the right set of skills and experience to attract and retain top talent as we continue to build a diverse, engaged, and high-performing team across the globe."
Prior to joining Trulioo, Mittal was the Head of Talent and People Operations at Framework Venture Partners, where she supported companies in the development of strategies aimed at attracting and developing world-class talent to help them scale. She specializes in encouraging companies to foster their core values and in turn invigorate their growth and people strategy. She has extensive experience in people strategy and HR transformation, including talent acquisition, on-boarding, retention, re-recruiting, employment branding, performance management, and defining and maintaining culture. She holds a Bachelors in Management Studies with a specialization in Business and Human Resources.
"I'm thrilled to join Trulioo, the market leader in identity verification, and look forward to contributing to the company's impressive growth and important mission that aligns with my values," said Shradha Mittal, Trulioo SVP People & Culture.
Trulioo has grown from a team of 130 in 2020 to more than 275 today and is continuing to hire for roles across the company. For more information or to explore current job opportunities, please visit: http://www.trulioo.com/company/careers.
###
About Trulioo
Trulioo is the leading global identity verification company building trust online so that businesses and consumers can transact safely and securely. Trulioo's platform provides real-time verification of 5 billion consumers and 330 million business entities worldwide — all through a single API integration. Organizations rely on Trulioo's identity verification solution, GlobalGateway, to help meet their business and compliance requirements and automate due diligence and fraud prevention workflows. The Trulioo mission is to help provide every person on the planet with a digital identity to enable access to basic financial services and support. For more information, visit trulioo.com.