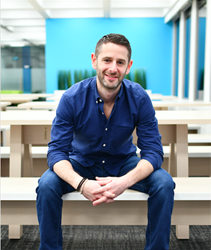 "Zac's depth of experience and expertise make him an ideal addition to our executive team as we continue to expand and grow globally to accomplish our mission of financial inclusion," said Stephen Ufford, CEO at Trulioo.
VANCOUVER, British Columbia (PRWEB) November 19, 2019
Trulioo, the leading global identity verification provider, announced the appointment of Zac Cohen as chief operating officer (COO) today. As COO, Cohen will continue to push forward innovative solutions that enable organizations to instantly verify identities of consumers and businesses while staying compliant to anti-money laundering and customer due diligence requirements around the world. He will also oversee Trulioo's senior leadership team, assume expanded responsibilities around policy, budget and investor relationships and spearhead the company's continued global expansion.
"Zac has played a critical role in Truloo's success over the past five years. Not only has he stepped up to run day-to-day operations, under his leadership, revenue has grown 150 percent year-over-year and our headcount has tripled to 140 staff across our Vancouver, San Francisco, and Dublin offices," said Stephen Ufford, CEO of Trulioo. "Zac's depth of experience and expertise make him a vital contributor to our executive team as we continue to grow and thrive while advancing our mission of financial inclusion."
Since 2015, Cohen has served as Trulioo's General Manager. With a strong background in technology and compliance, Cohen has contributed to the ongoing fundraising success of the company. In September, Trulioo announced $70 million in funding, contributing to one of the strongest quarters Canada has seen in venture and growth capital investments. To date, Trulioo has raised $96.6M in funding from early investors including Blumberg Capital, BDC Capital, American Express along with recent investors Goldman Sachs, Citi Ventures and Santander Innoventures.
"Trulioo's journey from startup to scaleup is the epitome of why tech is the most impactful and exciting industry in the world," said Cohen. "We're on a mission to build trust online and ensure that everyone everywhere has the opportunity to participate in the digital economy. We have ambitious goals; to succeed, we will require top talent to help get us there. I am excited to lead our efforts in building a world-class tech company in an executive role."
Cohen has been instrumental to the biggest Trulioo milestones, expanding its global operations to instantly verify five billion people and 250 businesses in over 195 countries. During his time as General Manager, Cohen expanded the reach of GlobalGateway and led the release of EmbedID, a front-end tool that allows developers to verify customers in real-time across multiple markets while meeting Anti-Money Laundering (AML) and Know Your Customer (KYC) requirements with only a snippet of code. Trulioo has won various awards under Cohen's leadership including CNBC's Disruptor 50 Award and 2019 #1 Identity Verification Solution from RegTech Supplier Report.
About Trulioo:
Trulioo is a global identity and business verification company that provides secure access to reliable, independent and trusted data sources worldwide to instantly verify consumers and business entities online. Trulioo's marketplace of global identity data and services, GlobalGateway, helps organizations comply with Anti-Money Laundering (AML) and Customer Due Diligence (CDD) requirements by automating Know Your Customer (KYC) and Know Your Business (KYB) workflows. Trulioo supports global clients to instantly verify five billion people and 250 million business entities in over 195 countries – all through a single API integration. Named as a CNBC Disruptor 50 Company, Trulioo's mission is to solve global problems associated with verifying identities by powering fraud prevention and compliance systems for customers worldwide in an effort to increase trust and safety online. For more information visit trulioo.com.