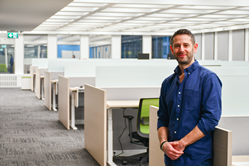 "2019 has been a big year for us, and being named to the REGTECH100 list again validates that our efforts are truly making an impact," said Zac Cohen, COO of Trulioo.
VANCOUVER, British Columbia (PRWEB) November 26, 2019
Trulioo, the leading global identity verification provider, announced that it has been named to the RegTech 100 list for the third year in a row. Trulioo's inclusion on the list recognizes a monumental year in which the identity and business verification company launched EmbedID, coverage in four new countries including Iceland, Bahrain, Georgia and Qatar — and secured $60M in Series C funding to fuel continued growth.
Commissioned by specialist research firm, RegTech Analyst, RegTech 100 is an annual list recognizing the most innovative technology solution providers that address the challenges and opportunities of dealing with regulatory issues within financial services. Trulioo was first named to the list in 2018 and has been included each year since.
"2019 has been a big year for us, and being named to the REGTECH100 list again validates that our efforts are truly making an impact," said Zac Cohen, COO of Trulioo. "In the last few years, the RegTech landscape has evolved dramatically: regulatory changes have progressed rapidly, compliance has become a top priority for all companies and identity is at the forefront of our digital economy. Amidst these shifts, we are honored to be named to the REGTECH100 list again and remain committed to bringing the most innovative ID verification solutions to the market."
The RegTech industry has established itself as one of the most important sectors within financial technology after seeing tremendous growth in the past three years. Over $14 billion has been invested in RegTech companies since 2016, as banks and other financial institutions grapple with the costs and complexities of regulatory requirements.
In line with this growth, this year's process to identify the leading 100 companies in the sector was more competitive than ever. A panel of analysts and industry experts voted from a long list of over 1,000 companies produced by RegTech Analyst. Fifty-three new companies entered the RegTech100 for 2020 and the finalists were recognized for their innovative use of technology to solve a significant industry problem, or to generate cost savings or efficiency improvements across the compliance function.
"Employing RegTech solutions to modernize the compliance function is now mission-critical for financial institutions globally," said Mariyan Dimitrov, head of research at RegTech Analyst. "And even though 51 percent of RegTech 100 companies are based within the UK or U.S., the spread of RegTech innovation has seen companies from another 23 countries make the list."
A full list of the RegTech 100 is available at http://www.RegTech100.com. More detailed information about the companies is available to download in a research pdf on the website.
About Trulioo:
Trulioo is a global identity and business verification company that provides secure access to reliable, independent and trusted data sources worldwide to instantly verify consumers and business entities online. Trulioo's marketplace of global identity data and services, GlobalGateway, helps organizations comply with Anti-Money Laundering (AML) and Customer Due Diligence (CDD) requirements by automating Know Your Customer (KYC) and Know Your Business (KYB) workflows. Trulioo supports global clients to instantly verify 5 billion people and 330 million business entities in over 195 countries — all through a single API integration. Named as a CNBC Disruptor 50 Company, Trulioo's mission is to solve global problems associated with verifying identities by powering fraud prevention and compliance systems for customers worldwide in an effort to increase trust and safety online. For more information visit trulioo.com.