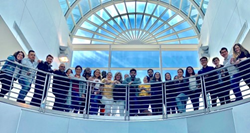 DALLAS (PRWEB) May 13, 2020
TruMC, one of the nation's largest independent media agencies, announced it is rebranding to TRUth. This shift comes with a new name, logo and website reflecting the company's evolution, expanded role in the marketplace as well as success in helping clients connect and engage with current and prospective consumers.
The new name retains its original root, "TRU" which embodies the agency's commitment to transparency across everything they do and now incorporates a "th" which stands for Touching Humans – their core mission of connecting brands with customers while facilitating meaningful connections and experiences.
In 2008, TRUth launched as a Hispanic media planning and buying group before expanding its capabilities to include end-to-end marketing solutions for major brands. The agency has since bolstered its offerings resulting in significant expansion in the variety of its client roster into the total market space. With this growth came new business, new staff and the need to relocate to a new, larger office space that could accommodate such a fast-growing company.
Today, TRUth is also proud to be recognized on Inc's fifth annual Best Workplaces list: https://www.inc.com/profile/truth. The competition was fierce, with more than three thousand companies surveying their employees on topics including trust, management effectiveness, perks, and confidence in the future. "Our culture is at the center of everything we do. Our hiring process is incredibly rigid with the sole focus of finding the right people who will be able to contribute to our growth and elevate our product. We proudly feature a greater than 93 percent retention rate. We've maintained our talent, nurtured it, and ultimately created an environment where everyone is happy to come to work every day," said President/CEO of TRUth, Yousef Kattan Fernández.
"It's been an incredible journey in the media industry," said Yousef Kattan Fernández. "We are honored to continue to do work that puts our clients at the forefront of innovation and impact. Our new name reflects our belief and practice of elevating brand insights, our commitment to honesty and transparency and our evolution to reach a more inclusive customer base that is not limited to multicultural. Also, with the recent COVID-19 pandemic it has never been more important to live our company's values. We are excited for the future and what our new normal holds. We were built to be agile and efficient and we're setup to help our brands grow in certain and uncertain times."
About TRUth
For more than 10 years, TRUth (formerly known as TruMC), has been helping brands establish meaningful connections with their consumers by creating customized strategies and media plans. With heavy investments into TRUth's brain center, the agency has built an intelligence center that houses hands to keys attribution insights and modeling, as well as, real time consumer segmentation and insights. Headquartered in Dallas, TX, TRUth is an end-to-end marketing solution leading agency offering strategic planning, research, media planning and buying, traditional and digital including OOH, and experiential services. Clients include Total Wine and More, Remitly, Pollo Campero, Pier 1 Imports, CDC, Wrangler, Famsa, Boston's Pizza, and Pepsi, among others.
The TRUth team recently relocated to a newly renovated office space and is conveniently located on the Dallas North Tollway and includes 12,500 sq ft available for hosting industry conferences, client meetings and cross agency summits.
To learn more about TRUth and their services, visit https://truad.com
Contact:
Alice Ovadia
972-848-8608
aovadia@truad.com
Facebook: http://www.facebook.com/truadagency
Instagram: http://www.instagram.com/truadagency
LinkedIn: http://www.linkedin.com/company/truadagency/
Twitter: http://www.twitter.com/truadagency