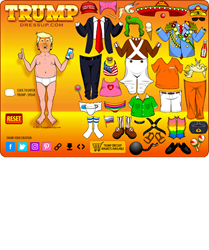 Las Vegas, NV (PRWEB) August 23, 2017
Introducing http://TrumpDressUp.com where you can dress up President Trump in a variety of unique outfits from a standard prison inmate to an Oompa Loompa. All of the 40+ costumes and accessories online can be mixed and matched for even more entertaining fun! Simply click and drag the items to create a own custom outfit for the president. Users can even insert their own words into the Trump speech bubble. Get creative, then share the original creations via social media with their friends!
While Trump DressUp is available to play online for free, TrumpDressup.com has also made this interactive game available as magnets. Each set is available to purchase on the website for only $15.
The Trump DressUp Magnets easily attach to any fridge, whiteboard, or any metal service. Now people can enjoy playing at home or at work! The Trump Dressup Magnets will make a great gift for family, friends, and co-workers.
The Trump DressUp Magnets include
Vanilla Ice Cream Cone
Prison Ball & Chain
Bad Hombre Sombrero
Russian Fur Hat & Flag
Mobile Phone Ready to Tweet
Baby Diaper, Rattle & Bib
Pinocchio & Clown Nose
Suit, Tie & Toupé
Make America Great Again Hat
Oompa Loompa Costume
African Dictator Costume
Prison Inmate Costume
The Trump Dressup Free Online Game includes extra outfits and accessories such as: pink pussy hat, rainbow leg warmers, gay pride attire, leather fetish fashion, ketchup bottle, sandals, pacifier and maracas.
Social Media Accounts:
Facebook: http://facebook.com/trumpdressup
Twitter: http://twitter.com/trumpdressup
Instagram: http://instagram.com/trumpdressup
Hashtag: #trumpdressup
Website: http://trumpdressup.com
Retail stores currently carrying Trump Dressup Magnets
Toy Tokyo - New York City, NY
Wacko/Soapplant - Hollywood, CA
Aaron's Rock & Roll - Austin, TX
Loft Of Ashville - Ashville, NC
Peculiarium - Portland,OR
Whozitz & Whatzitz - Phoenix, AZ
Big Fun - Cleveland, OH