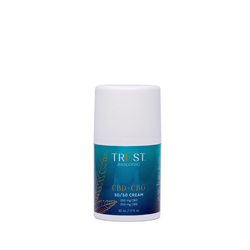 Trust Biologic announces its newly formulated "CBD + CBG 50/50" super hydrating cream is now available for purchase.
LAKEWOOD, Colo. (PRWEB) February 17, 2021
TRUST Biologic announces its newly formulated "CBD + CBG 50/50" super hydrating cream is now available for purchase at http://www.trustbiologic.com.
This clean CBD + CBG (cannabidiol plus cannabigerol) cream is made of the highest quality topicals and provides the best results for the skin and body. Aging skin is often the result of a depletion, causing imbalance in the skin. The TRUST Biologic 50/50 Cream protects, hydrates, and alleviates skin irritation while encouraging a healthy dermal function. This restores natural glow, reduces opportunity for blemishes and the appearance of wrinkles, softens age and sun spots, and brightens skin that has lost it's luster as a consequence of aging.
The essential oils, plant extracts, vitamins, terpenes, and additional organic ingredients in this CBD and CBG based topical cream work together. This is commonly referred to as the "the entourage effect" and produces powerful, nourishing benefits that your skin will love and appreciate. The CBD and CBG used in TRUST Biologic formulations are extracted from commercial hemp that is cultivated and grown, following all local and federal regulations.
Ella Cressman, the Company's VP of Marketing stated that, "The 50/50 Creme is so unique, it's hard to compare it to what is currently available. As a licensed esthetician, I love what it does for my skin and get excited when hearing how everyone who has tried it just absolutely loves it! It's not just that the skin immediately feels nourished, but after a few days, you can visibly see the skin changing for the better."
Jeffrey Johnson, the President of the Company added that, "This is one of the first products that was envisioned when we began the transition from TRUST Beauty to TRUST Biologic over a year ago. We worked very hard getting the specifics just right to meet the needs of our clientele and we believe what we came up with will really set TRUST Biologic apart in the marketplace"
TRUST Biologic™ is a Colorado based bioceutical research, development and marketing company focused on creating products addressing the concerns of Baby Boomers and issues relating to an aging population. Its key products are geared towards natural cannabinoid and adaptogen enhanced modalities, if, when, and where possible.