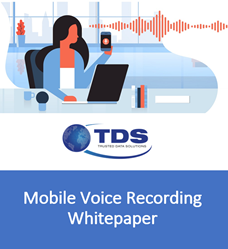 "TDS CAN MIGRATE DATA FROM YOUR FORMER ARCHIVE INTO THE CLOUD OR ON-PREMISE RECORDER. WE HAVE THE REQUIRED SKILLS, KNOWLEDGE, AND EXPERTISE TO ENABLE A SMOOTH, DOCUMENTED, AND PRODUCTIVE TRANSITION FROM ONE SYSTEM TO THE OTHER."
NEW YORK (PRWEB) November 09, 2020
Regardless of what industry you are in the current lockdown will have changed the way you work.
Mobile recording and SMS capture can be deployed to help you in continuing to run your business in the lockdown and beyond.
Financial Markets firms are required to record all communications leading to a transaction, but even outside of this sector we are seeing many firms, that are now decentralized, using Mobile Recording to help them maintain records of business activity, keep productivity high and lower risk to the business.
Any regulated person making trades, committing the business to transactions, or handling confidential information should be considered for Mobile Recording & SMS Capture.
Enabling Mobile Recording on EE Corporate devices is simple and easy. Once enabled, calls and SMS messages will be captured, encrypted, and stored in our secure archive where authorized users can search, playback and download recordings and messages.
Calls & messages are normally available within minutes of taking place

Easily access the last 90 days of recordings once you open the archive.
Filter through your data by amending the search to help find what you're looking for faster.
Play a call as many times as you like- add notes/ tag it a certain color to help with future searches and download the individual call.
MVR Fast Facts on Service Features
Network / SIM Based Solution:
Partnered with EE- the UK's best mobile network to provide a Mobile voice and SMS capture service with the following features:
Device independence – basic phone or latest smartphone we capture calls and SMS
Cannot be deactivated by the end user – Controlled by your organization
No Apps - reduces support queries and mistakes from the end user
No call diversions – SIM based recording at the network level
Normal Mobile experience – No delays on making a call, no different dialer
UK Network grade solution – Not an MVNO – The Full EE Corporate stack designed for business use
Capture Mobile calls and/or SMS for Each User:
Mobile calls captured in the UK and while roaming on compatible Camel Network (Inbound calls are always captured)
SMS captured regardless of where the user is roaming
Flexible Delivery:
Source: RootMetrics
Did You Know?
"TDS CAN MIGRATE DATA FROM YOUR FORMER ARCHIVE INTO THE CLOUD OR ON-PREMISE RECORDER. WE HAVE THE REQUIRED SKILLS, KNOWLEDGE, AND EXPERTISE TO ENABLE A SMOOTH, DOCUMENTED, AND PRODUCTIVE TRANSITION FROM ONE SYSTEM TO THE OTHER."
Mobile Voice Recording FAQ's
1. Can calls be deleted on request and if so, what is the process and how long does it take? The scenario I was given was that a customer might ask for all their calls to be deleted or perhaps a trader can claim certain calls are personal.
Interesting question. Under GDPR, clients do not have the right to have calls that are recorded for regulatory purposes deleted. And Traders should be made aware of the recording and that any personal use of their devices will be recorded and treated accordingly. Personal calls have zero compliance interest so are usually skipped as soon as the reviewer realizes that they are personal. In any event if the Firm were to reveal the content of a personal call, or to act on it they would then open themselves up to a claim by the employee under GDPR.
2. Can we do a pilot setup please? How long would it take and what information do you need?
We can, but usually only do pilots for very large prospects.
3. If they only take the service for (say) three months, can they download their calls?
Yes – there is a download capability – they can download all calls and SMS messages – this is included in the price (no fees) and they can approach us to extend the archive period if they want after the 3 months is up.
4. What metadata do they get on the downloaded calls (for example if we tagged them, notes etc …)
Downloaded calls contain only the Direction – fromNumber-ToNumber-date and time of the start of the call in UTC – (e.g. Inbound-Call-441344231201-To-447790929001-2020-04-16_15.17.12-UTC.wav)
5. Performance and how the EE call recording facility works, and how much disruption this would take to implement?
Our recording solution is device independent and cannot be deactivated by the end user. It has the capability to record voice calls and SMS messages. Calls made via the EE network are sent to the TDS Mobile Recording Platform and encrypted prior to being delivered to the intended storage location. We use the AWS S3 storage. Calls are encrypted prior to being delivered to AWS using a AES 256 and RSA 2048 keys. Data is then available for search and replay to designated admin users in the TDS portal where all the calls are stored and retained for up to 7 years. In terms of disruption, users shouldn't experience any change to call quality during implementation and normal use.
6. The time frame to get this facility turned on?
Once you have provided us the numbers and names that you need to be recorded, we pass this on to our service team where they begin the process of checking the numbers and running tests. It usually takes up to 2 days from this point for users to start being recorded, however we tend to do it much quicker than this. In some cases, it can take a matter of hours.
7. Storage size and where calls would be saved?
Calls are about ~60MB per hour – we retain them in the TDS Amazon S3 account encrypted with AES and RSA.
8. All calls to the MVR number are always recorded – regardless of where they are in the world or what network they are attached to.