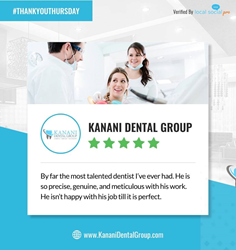 LOS ANGELES (PRWEB) July 17, 2019
Trusted dentist, Dr. Kaveh Kanani, is encouraging patients residing in Greater Los Angeles to reclaim their smiles with Kanani's innovated bonding procedures. Bonding is just one of the many cosmetic dentistry options Dr. Kanani provides. When compared to other methods, bonding can be done in a single visit, and patients leave immediately happy with their new smiles.
Dr. Kanani's bonding procedure is when a tooth-colored composite resin (plastic) is applied to repair a decayed, chipped, or discolored tooth. Bonding isn't the same as veneers. Patients who opt to have a tooth bonded can have it done in a single and straightforward visit. The procedure gets its name from the method of bonding the material to the tooth. Also, bonding can last up to several years. Dr. Kanani's bonding procedure is more susceptible to staining or chipping than other forms of restoration. When patients come to see Dr. Kanani with teeth that are chipped or slightly decayed, bonded composite resins may be the best choice. Additionally, bonding can be helpful to close spaces between teeth or to cover up the entire surface of a tooth. What's best is there is absolutely no preparation needed for this procedure.
What is bonding used for?
One of the easiest and least expensive of cosmetic dental procedures, bonding is used for cosmetic purposes to improve the appearance of a discolored or chipped tooth.
What is Dr. Kanani's tooth bonding technique?
Dr. Kanani will use a color guide to determine the composite resin that will most closely match the color of your tooth. Once he has chosen the color, he will lightly scrape the surface of the tooth to roughen it. Then, the tooth is coated slightly with a conditioning liquid. This liquid helps the bonding material adhere. Once the tooth is prepared, Dr. Kanani will apply the tooth-colored resin. This resin is then formed and smoothed until it's the proper shape. The resin is hardened with an ultraviolet light or laser that Dr. Kanani uses. After that, Dr. Kanani will polish the material until it matches the rest of his patient's teeth. The whole process takes approximately 30 to 45 minutes to complete.
Patients interested in discovering the benefits of single-visit tooth bonding treatments in Tarzana, CA should contact Dr. Kanani by calling (818) 962-1141 or woodlandhillsdentalspa.com. Free consultations are available with Dr. Kanani in his eco-friendly Tarzana, CA office.
About Dr. Kanani
As one of the most innovative dentists in Los Angeles, Dr. Kanani's objective is to help patients regain their smiles and their confidence through groundbreaking, non-invasive treatments such as his bonding technique. Dr. Kanani has been utilizing non-invasive treatment methods to heal patients suffering from many dental issues, including loss of teeth. Individuals in Los Angeles and Woodland Hills who are looking to get bonding done can make an appointment with Dr. Kanani today by calling (818) 962-1141, or visiting http://www.woodlandhillsdentalspa.com.