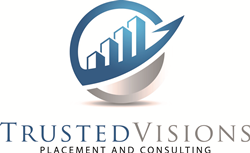 Trusted Visions makes big splash in 1st full year as independent recruiting and consulting firm.
MAGNOLIA, Texas (PRWEB) February 10, 2021
Trusted Visions Placement and Consulting made a huge splash in their first full-year in business. The group recruited over $3 billion in assets while also adding two experienced recruiters to the Trusted Visions team. The young 3rd party recruiting firm was founded by Jeremy Belfiore in 2019 after Jeremy spent 17 years as a business development professional in the financial services industry.
Jeremy adds, "Trusted Visions was founded on the idea to be different than any other 3rd party recruiting firm. We didn't want to sign with every broker-dealer just to add them to the list. We wanted broker-dealer partnerships that were true partnerships. We believe in the vision of the broker-dealers we associate with. We also wanted to take a very hands-on approach to working with every financial advisor. That means we are engaged every step of the way, including every demo and home office visit. We are not a firm that is going to throw a financial advisor's name to 10+ broker-dealers and have them call us later to pick up our paycheck. We take the time to listen to every financial advisor and introduce them only to the broker-dealers that fit their needs. We want our broker-dealer partners to feel good when they pay us, knowing we earned every dollar."
Jeremy attributes the first-year success of Trusted Visions to the strong professional and personal relationships he has built with financial advisors throughout his 19-year career as a business development professional.
In addition to the recruiting success of Trusted Visions, they also added two very experienced recruiters to the team. Deb Grier, whom has over 30 years of experience as a business development professional joined Trusted Visions in 2020. "Making the decision to return independent, I was afforded the flexibility to truly be an advocate for my advisors. Joining Trusted Visions provided me everything I needed, without feeling I had to reinvent the wheel and do it all on my own. Sharing the same values, philosophies and culture were certainly key in making that choice," said Deb. David Perez also joined Trusted Visions in 2020. "The decision to partner with Jeremy and Trusted Visions was easy. I had worked with Jeremy in business development previously and know how well respected he is in our field. He has molded Trusted Visions into a firm that puts the clients' needs first, then provides the necessary support for all to succeed and have fun doing it," said David. He brings over 20 years' experience in the financial services industry.
When asked about the addition of recruiters to Trusted Visions, Jeremy said, "When we founded Trusted Visions, it was always my goal to have Trusted Visions be a bridgeway for experienced recruiters that wanted to leave corporate America, without having to start over from scratch. When I was looking at going independent, I had many conversations with other firms who wanted to take a large portion of the business I generate. Trusted Visions wants to provide the resources, tools, and selfless team approach, while ensuring that professionals like Deb and David take the lion's share of the income they earn through their own hard work, effort, and relationships.
Collectively, Trusted Visions now has over 7 decades of experience working with financial advisors and business development teams. While it typically takes years for recruiting firms to have the success Trusted Visions has enjoyed in its first full year of being an independent recruiting firm, Trusted Visions has made its mark as a recruiting and consulting firm that will be around for many years to come.
When asked what the future holds for Trusted Visions, Jeremy's response was, "to be different than any other recruiting firm in two ways; first, by taking a very hands-on approach with each and every advisor and second, continue to build a team of experienced professionals that have a selfless team philosophy."