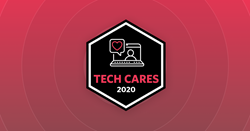 AUSTIN, Texas (PRWEB) September 23, 2020
TrustRadius, the most trusted customer review platform for business technology, today awarded 116 Tech Cares awards to technology companies that have gone above and beyond to support their clients and communities in 2020 and during the COVID-19 pandemic. The award also recognizes companies that have contributed directly to combat the virus, either with their products, knowledge, or financial support.
The 2020 Tech Cares award is unique in the software industry because 2020 is a unique year for tech, and the world at large. While it has been tempting for businesses to simply survive COVID-19 and the economic devastation that it has caused, many companies rose to the occasion to meet the needs of those around them.
The nomination-based award recognizes companies for showing how much they care. Some responded to the pandemic by removing pricing barriers, expanding their offerings, and providing additional resources to help support their communities. Other vendors partnered with medical or social organizations and leveraged their products to help combat the virus directly. Today TrustRadius recognizes companies like these who have exemplified one of TrustRadius's core values (being human) in the face of an unprecedented challenge.
"We are excited and proud to announce our newest award winners," said TrustRadius CEO Vinay Bhagat. "This pandemic isn't just a test of fortitude. It's an opportunity to distinguish yourself. We have been completely inspired by the way the B2B technology industry responded to COVID-19. So many companies pivoted with grace, leading to many of them standing out in our minds as major community contributors during this time. Not only do we feel that these companies are deserving of recognition—we also consider their example when deciding how we ourselves can find new ways to give back."
Congratulations to our 2020 Tech Cares Award Winners:
(listed in alphabetical order)
7shifts
8X8 X Series
ACCENTURE
ActiveCampaign
ActivTrak
ADP WFN
AlertMedia
Anaplan
Apricot Social solutions
APS Payroll
Arm Treasure
Articulate
Ascentis
AT&T FirstNet
AtScale
Avaya
BlackLine
Blue Prism
BlueJeans
Building Engines
CarePort Health
Ceridian
ChurnZero
Cisco Webex
CitiXsys
Condo Control Central
Conductor
Cornerstone OnDemand
Dialpad
Drift
Druva inSync
Emburse
ESET
eThink Education
Everbridge
EZ Texting
FinancialForce
Genbook
Global Healthcare Exchange (GHX)
Higher Logic
Hootsuite
Impero Software
Impiger Techologies, Inc.
INFUSEmedia
Intercom
Jamf Software
Jibble
Jobma
Jolt
JotForm
Kaseya
Keap
Khoros
Kissflow
KnowBe4
Kofax
Kustomer
LogMeIn Rescue
LogRhythm
Mailchimp
Microsoft
MobileIron
Modernizing Medicine
Namely
Netchex
Nextech
Nice inContact CXone
Nintex
Nuance Communications, Inc.
ON24
PandaDoc
PanTerra Networks
Passageways
PathFactory
PatSnap
Paychex, Inc.
Paypro Workforce Management
Prophix Software Inc.
Pulse Secure
Pure Storage Flash Array
Pushnami
Qlik
Quick Base
Renaissance Learning
RMS Cloud
Robin
Sage Intacct
SAP Procurement Solutions
Sauce Labs
Scale Computing
SchoolAdmin
Simeio
Skyward Student Management
Slack
Syncron
SysAid Technologies
Taulia Inc.
ThoughtSpot
TOPdesk
Totango
TriNet
Turbonomic
Ultimate Kronos Group
UserTesting
Vembu Technologies
Vena Solutions
Vidyard
Visier
WatchGuard Technologies
Wrike
Xactly
Zerto
Zoho CRm
Zoom
ZoomInfo
Zywave
About TrustRadius
TrustRadius is the fastest growing, most trusted customer review platform for business technology. Each month, over 1 million B2B technology buyers use in-depth reviews on TrustRadius.com to make informed purchasing decisions. Headquartered in Austin, TX, TrustRadius was founded by successful entrepreneurs and is backed by Mayfield Fund, LiveOak Venture Partners, and Next Coast Ventures.