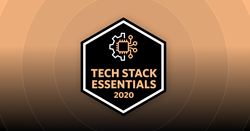 Of all the tools in your technology stack, which product is the most essential to your day-to-day job? These are the products that earned that distinction.
AUSTIN, Texas (PRWEB) October 28, 2020
TrustRadius, the most-trusted customer voice and insights platform for B2B technology, today announced the winners of the 2020 Tech Stack Essentials Award. This award celebrates products that TrustRadius users identified as "essential" to keeping their businesses running every day.
The Tech Stack Essentials Award is given to companies whose products were nominated by an open-ended survey of over 250 TrustRadius users. Tech users were asked: "Of all the tools or products in your technology stack, which product is the most essential to your day-to-day job?" In order to win the Tech Stack Essentials award, a product must earn more than 2% of the write-in vote, or more than 1% of the vote and be validated by the TrustRadius Research team using reviewer feedback.
Out of more than 17,000 products on TrustRadius, 105 products were nominated as the essential products in professional's work lives. Only 23 were able to earn the status of Most Essential. These award-winning products are listed below in alphabetical order:
Amazon Web Services
Asana
Basecamp
Connectwise Control
Google Workspace (formerly G Suite)
Hubspot
Jira Software
Keap (formerly Infusionsoft)
Marketo
Microsoft 365
Microsoft Teams
Microsoft Visual Studio Code
NetSuite
OneNote
Procore
Quickbooks Online
Salesforce
Skype
Slack
SQL Server
Tableau Desktop
Visual Studio IDE
Zoom
Of the 23 Tech Stack Essentials Award winners, five products received an outpouring of community support, meriting special acknowledgement. Those products are Microsoft 365, Slack, Google Workspace (formerly G Suite), Microsoft Teams, and Salesforce.
"2020 changed everything we know about the nature of work," said TrustRadius CEO Vinay Bhagat. "As the tech industry migrated to a fully remote environment, we observed that certain technologies were quickly rising in popularity among the buyer community at TrustRadius. We're pleased to give these tools the recognition they deserve for leading the industry during a tumultuous year. Congratulations to all 105 winners of the Tech Stack Essentials Award!"
For more information about TrustRadius awards, please contact pr@trustradius.com.
About TrustRadius:
TrustRadius helps technology buyers make better decisions and helps vendors tell their unique story, improve conversion, engage high-intent buyers, and gain customer insights. Each month over 1 million B2B technology buyers, over 50% from large enterprises, use verified reviews and ratings on TrustRadius.com to make informed purchasing decisions. Headquartered in Austin, TX, TrustRadius was founded by successful entrepreneurs and is backed by Mayfield Fund, LiveOak Venture Partners and Next Coast Ventures.