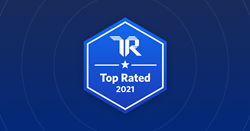 Top Rated awards are a crucial part of our promise to buyers," says TrustRadius Founder and CEO Vinay Bhagat. "We're committed to creating an equal-opportunity customer voice platform
AUSTIN, Texas (PRWEB) March 31, 2021
TrustRadius, the most trusted customer voice, and insights platform, today announced the 2021 Top Rated Awards in 73 categories including marketing, sales, and content software. Over the past seven years, these awards have brought much-needed transparency to the software market—because unlike with other awards programs, Top Rated winners are only selected based on authentic ratings and reviews from real customers.
"Top Rated awards are a crucial part of our promise to buyers," says TrustRadius Founder and CEO Vinay Bhagat. "We're committed to creating an equal-opportunity customer voice platform, and awards are a big part of what helps buyers thrive. Our Top Rated Awards are unique in the industry because they're completely unbiased. Winners are recognized based on the un-gameable trScore algorithm, along with the recency and relevancy of authentic customer reviews. These three criteria make the Top Rated awards a true voice of the market."
The 73 categories with winners announced today are A/B Testing, Account-Based Marketing (ABM), Ad Serving & Retargeting, All-in-One Marketing, Call Recording, Collaboration, Community, Contact Center, Contact Management, Content Management, Content Marketing, Cross-Channel Campaign Management, Customer Advocacy, Customer Data, Customer Experience Management, Customer Success, Data Cleansing, Data Management, Digital Asset Management, Digital Experience, Direct Mail Automation, eCommerce, Ecommerce Personalization, Email Marketing, Email Verification, Enterprise Content Management, Enterprise Marketing Management, Event Management, Event Registration, Gamification, Heatmap and Session Recording, Intelligent Virtual Assistant, Interactive Whiteboard, Market Intelligence, Marketing Analytics, Marketing Automation, Marketing Resource Management, Mobile Analytics, Mobile Marketing, Payment Gateway, Point of Sale, Predictive Analytics, Product Management, Professional Services Automation, Project Management, Public Relations (PR), Real-Time Interaction Management, Sales Acceleration, Sales Coaching, Sales Content Management, Sales Dialer, Sales Email Tracking, Sales Enablement, Sales Engagement, Sales Incentive Compensation Management, Sales Intelligence, Sales Performance Management, Screen and Video Capture, SEO, Social Media Advertising, Social Media Analytics, Social Media Customer Service, Social Media Management, Social Media Marketing, Social Media Monitoring, Social Media Publishing, URL Shorteners, Usability Testing, Video, Video Marketing, Virtual Event, Web Analytics, and Webinar.
"After the long year we just had, reviews are more critical than ever," says Bhagat. "Business technology buyers need help navigating the changing landscape. Our Top Rated program helps buyers make great purchases, and gives customer-powered vendors the recognition they deserve."
TrustRadius will issue Top Rated awards in additional categories on April 28th and May 26th of this year. The Top Rated awards program will extend throughout 2021 in order to cover TrustRadius' ever-expanding collection of software products and categories.
About TrustRadius
TrustRadius helps technology buyers make better decisions and helps vendors tell their unique story, improve conversion, engage high-intent buyers, and gain customer insights. Each month over 1 million B2B technology buyers, over 50% from large enterprises, use verified reviews and ratings on TrustRadius.com to make informed purchasing decisions. Headquartered in Austin, TX, TrustRadius was founded by successful entrepreneurs and is backed by Mayfield Fund, LiveOak Venture Partners, and Next Coast Ventures.