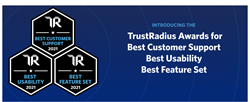 "The 'Best Of' Awards highlight these attributes to help buyers identify those products with standout support experiences, ease of use, and feature sets in a given category."
AUSTIN, Texas (PRWEB) January 19, 2021
TrustRadius, the most trusted customer voice and insights platform, announced over 400 product winners in a new round of awards. The TrustRadius "Best of" Awards focus on recognizing products with excellent Customer Support, Feature Set, and Usability ratings.
"We are excited to announce our first-ever 'Best Of' Award winners," said TrustRadius CEO Vinay Bhagat. "Let's face it: not all products are created equal, and neither are all technology buyers. That's why at TrustRadius we're always looking for new ways to help buyers make great decisions. By highlighting products that have exceptional customer support, features, or usability, we can help more buyers navigate to products that will meet their unique needs."
The TrustRadius "Best Of" Awards are earned by the top 3 products in each software category with the highest Support rating, Usability rating, and the highest rate of reviewer satisfaction with the product's Feature Set.
"Certain attributes, such as support and usability, have a particularly strong impact on users' experiences with business technology," said Megan Headley, Vice President of Research. "The 'Best Of' Awards highlight these attributes to help buyers identify those products with standout support experiences, ease of use, and feature sets in a given category."
B2B software products must meet high standards to qualify to compete for each "Best Of" Award. Winners must have 10 recent ratings from within the last year to ensure that the product's score is accurate. Each product must also have an aggregate attribute rating of 8.0 or higher to compete for that attribute's "Best Of" Award. If necessary, the Research team at TrustRadius broke ties using a textual analysis of reviewers' feedback on the attribute in question.
Our own blog announcement can be found here.
About TrustRadius:
TrustRadius helps technology buyers make better decisions and helps vendors tell their unique story, improve conversion, engage high-intent buyers, and gain customer insights. Each month over 1 million B2B technology buyers, over 50% from large enterprises, use verified reviews and ratings on TrustRadius.com to make informed purchasing decisions. Headquartered in Austin, TrustRadius was founded by successful entrepreneurs and is backed by Mayfield Fund, LiveOak Venture Partners and Next Coast Ventures.