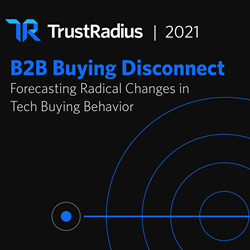 The B2B Buying Disconnect is an invaluable resource for tech marketers.
AUSTIN, Texas (PRWEB) November 10, 2020
TrustRadius, the most trusted customer review platform for business technology, today celebrates the publication of the 5th annual B2B Buying Disconnect—a research report that reveals year-over-year changes in business technology buying and selling. With over 40 new statistics supported by in-depth analysis, the B2B Buying Disconnect is the tech industry's primary source of information on the state of B2B marketing in 2021.
The 2021 B2B Buying Disconnect provides insights into the following topics:

The Top 5 Information Sources Buyers Use
How Review Sites Influence Buying
Less Than Half of Vendors Use Intent Data
Marketing Tactics That Buyers Hate
How Data Security Concerns Delay Buying
How to Win More Buyers in 2021
"Especially as the coronavirus pandemic has sparked severe changes in the B2B tech world, the B2B Buying Disconnect is an invaluable resource for tech marketers," said Vinay Bhagat, TrustRadius Founder and CEO. "Marketers at software companies already saw a gap between the way they market technology and the way buyers want to engage with them. COVID-19 has intensified that disconnect."
"Buyers are now demanding self-service options that not all vendors offer," continued Bhagat. "In a market where most interactions are online, buyers are increasingly concerned about data privacy and security—enough to ruthlessly cut products from their shortlist. They're also frustrated by the marketing tactics that vendors love to use. At TrustRadius, we're determined to unearth these gaps and provide the data that tech marketers need to improve their tactics in the new year."
About the 2021 B2B Buying Disconnect
Data for the TrustRadius 2021 B2B Buying Disconnect was sourced from the TrustRadius global network of contacts via an online survey. Survey respondents include professionals who helped buy new software or hardware for their organization in the last year (technology buyers) and professionals who work in marketing or sales at companies that provide software or hardware to other businesses (technology vendors).
TrustRadius received responses from 907 buyers and 227 vendors, for a total of 1,134 survey respondents. All respondents were offered a nominal incentive ($15 gift card) as a thank-you for their time.
The 2021 B2B Buying Disconnect aligns with TrustRadius' mission to increase transparency in the tech industry. This is the most recent installment in TrustRadius' series of major research projects, which includes the annual Women in Tech Report and the People of Color in Tech Report.
Read the 2021 B2B Buying Disconnect here.
About TrustRadius
TrustRadius helps technology buyers make better decisions and helps vendors tell their unique story, improve conversion, engage high-intent buyers, and gain customer insights. Each month over 1 million B2B technology buyers, over 50% from large enterprises, use verified reviews and ratings on TrustRadius.com to make informed purchasing decisions. Headquartered in Austin, TX, TrustRadius was founded by successful entrepreneurs and is backed by Mayfield Fund, LiveOak Venture Partners, and Next Coast Ventures.