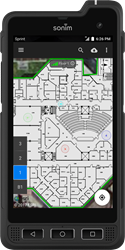 GREENBELT, Md. (PRWEB) July 25, 2018
TRX Systems, developer of NEON® Indoor Location Solutions, today announced the release of NEON 10, the newest version of TRX's industry-leading 3D location and mapping solution for GPS-denied environments. NEON 10 delivers unparalleled signal and sensor mapping as well as real time personnel tracking in even the most complex buildings where accurate personnel location data is often most needed to deliver safety and ensure operational effectiveness of military, public safety and industrial personnel. For the first time, NEON 10 users can easily create their own 3D maps and ubiquitously track personnel in complex structures such as transit centers, parking garages, interconnected buildings, and subways.
The NEON solution geolocates personnel operating indoors, underground and anywhere GPS is not available using TRX's patented sensor fusion, ranging, and mapping technologies. Map and associated location assistance data support delivery of both 3D personnel location and actionable visualization. The new NEON 10 solution dramatically simplifies the often difficult task of map creation. NEON's patented algorithms uniquely enable the use of building structural features and learned RF data to be used as navigation points that improve tracking accuracy. With the release of NEON 10, structural features can now be added to enhance navigation accuracy without ever visiting the building.
New capabilities of NEON 10 include the ability to rapidly create and visualize building structural features such as stairs, elevators, entrances, and ramps; NEON 10 uses these structural features to improve geolocation of personnel operating in GPS-denied environments. NEON's ability to accurately estimate floor level (z-axis) is also enhanced by NEON 10 mapping features that allow users to define and show the regions within a floor that are located at different floor heights, also without ever visiting the building.
"NEON 10 has dramatically simplified the difficult task of generating 3D building maps for locating personnel as well as for mapping of signal and sensor information," said Carol Politi, President and CEO of TRX Systems. "The ability to efficiently create navigable maps both onsite and remotely is a game-changing capability for TRX users in the public safety, defense, and industrial markets."
About TRX Systems
TRX Systems is the developer of the NEON® Indoor Location Solution, delivering location and mapping indoors, underground, in dense urban, and other GPS-denied areas. NEON delivers ubiquitous, low-cost, 3D location in GPS-denied environments through the use of advanced sensor fusion, ranging, and patented dynamic mapping algorithms. NEON location technology provides the foundation for a number of commercial applications including NEON Personnel Tracker and NEON Signal Mapper.
TRX Systems is the recipient of the Silver Edison Award for Innovation in the Navigation and Robotics category, the Tibbetts Award given by the U.S. Small Business Administration for Innovation and Economic Impact of Research and Development, the TEDCO ICE Award for Corporate Excellence and the Innovator Award from the Chesapeake Regional Tech Counsel (CRTC). TRX's indoor location software development has been supported by the National Science Foundation, the Defense Advanced Research Projects Agency (DARPA), the U.S. Army, and the Department of Homeland Security.