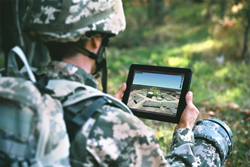 GREENBELT, Md. (PRWEB) March 11, 2021
TRX Systems, developer of NEON® GPS-Denied Location Solutions, is now delivering NEON technology for precise positioning of warfighters during live military training exercises. Seamless and accurate positioning of all personnel during training is critical to support new capabilities during direct and indirect fire and to enable detailed after-action review. With NEON technology providing the precise 3D positioning both indoors and out, the goal of enhancing training realism and damage assessment becomes a reality.
TRX's NEON Location System is a low-SWAP commercial system that has been deployed throughout the world in support of signal mapping, personnel tracking, and assured position/navigation for both training and tactical applications. For indoor training in areas such as Military Ops on Urban Terrain (MOUT) sites, NEON delivers 3D position including z-axis (altitude above terrain) and floor level data. This technology enables effective support for training within complex urban environments, enhancing the calculation of weapons effects and supporting realistic integration of augmented entities. NEON is well-suited for use at both permanent and temporary training sites. TRX technology provides:

Precise outdoor and indoor position (including Z-axis and floor level)
Flexible integration of inertial, map, GNSS, RTK, ultra-wideband, and Bluetooth
Warfighter motion levels (still, fast, slow) and posture (standing, prone)
Distributed architecture ensuring scalability from small to large training environments
Easy integration with third-party visualizers (including available ATAK plug-in)
Straightforward integration of external position inputs (e.g., vision systems)
Support for Distributed Interactive Simulation (DIS) protocol
Cloud and enterprise operational configurations
Rapid deployment options with very limited, non-networked infrastructure
Modular solution using open commercial standards, easing new technology integration
"TRX's NEON technology has been used to enhance safety and situational awareness for warfighters and first responders around the world for more than 10 years," said Jeff Kunst, VP of Product at TRX Systems. "That same NEON technology is now supporting soldiers at MOUT sites using enhanced weapons and software tools that provide the most realistic live training possible."
Many live training systems currently use GNSS and ultrawideband technologies for personnel tracking that are often not reliable in dense canopy and around buildings, are completely unavailable in sub-terranean areas, do not support accurate indoor-outdoor transition, and require costly networked infrastructure. TRX's NEON technology is now available to support seamless and accurate 3D positioning for enhanced realism during live training and is easily integrated using service-oriented architecture techniques, simplifying both initial deployment and future evolution. Learn more at https://www.trxsystems.com/live-training.html.
About TRX Systems
TRX Systems is the developer of NEON® GPS-denied location solutions, delivering assured position and mapping where GPS is not available or is unreliable including indoors, underground, in dense urban areas, and where GPS is jammed or erroneous. NEON delivers ubiquitous, low-cost, GPS-denied location through the use of advanced sensor fusion, ranging, and patented dynamic mapping algorithms. NEON® location technology provides the foundation for several commercial applications, including NEON® Personnel Tracker and NEON® Signal Mapper. In addition to the U.S. Army, TRX's location software development has been supported by the National Science Foundation (NSF), the Defense Advanced Research Projects Agency (DARPA), the Air Force, the National Institute of Standards and Technology (NIST), and the Department of Homeland Security (DHS). For more information, visit http://www.trxsystems.com.