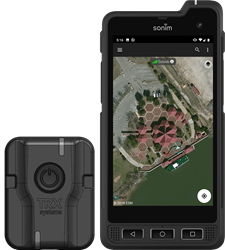 GREENBELT, Md. (PRWEB) December 21, 2018
TRX Systems, provider of NEON® Location Solutions, delivered personnel location at the Department of Homeland Security Science and Technology Directorate's Next Generation First Responder (DHS S&T NGFR) - Harris County Operational Experimentation (OpEx) that took place 4-5 December 2018 at the Port of Houston in Texas. The two-day OpEx demonstrated how an integration of a select group of emergency response technologies could improve coordinated emergency response during a simulated HAZMAT scenario at the Port of Houston that included federal, state, and local public safety agencies.
Over the past year, DHS S&T partnered with Houston-area public safety agencies, the U.S. Coast Guard, the Federal Emergency Management Agency (FEMA), and the DHS Office of Emergency Communications to identify technical capabilities that could assist first responders at the scene of an emergency. Situational awareness, responder physiological and patient monitoring, real-time location tracking, and enhanced communications were identified as priority concerns.
DHS's NGFR program is focused on developing, adapting and integrating technologies to make first responders better protected, connected, and fully aware. NGFR hosted this OpEx to assess how commercial innovations, DHS-developed technologies, and existing first responder infrastructure could be integrated to improve incident response effectiveness during a real-world scenario.
TRX was selected to provide mission critical personnel location for the OpEx and showcased NEON® Personnel Tracker, a 3D mapping, and location solution that improves operational efficiency, command effectiveness, and safety for industrial, security, public safety, and defense applications. Personnel Tracker delivers seamless indoor and outdoor location, including delivery of real-time 3D location of personnel operating indoors, underground, and in other GPS-denied environments. Implemented as a location service running on the mobile devices carried by the first responders, NEON location data was integrated with situational awareness applications that included Intrepid Response, Ares Command Bridge, Haystax Constellation, and NASA JPL's AUDREY to enhance coordination of responding teams consisting of more than 40 first responders and improve overall incident response effectiveness.
"Technology must seamlessly integrate into first responder operations to truly improve safety and operational efficiency," said Carol Politi, President and CEO of TRX Systems. "TRX is dedicated to providing mission-critical location data that can be easily integrated with advanced situational awareness platforms to help first responders manage incidents in the face of increasingly dangerous threats."
About TRX Systems
TRX Systems is the developer of the NEON® Indoor Location Solution, delivering location and mapping indoors, underground and in dense urban areas where GPS is not available or is unreliable. NEON delivers ubiquitous, low-cost, 3D indoor location through the use of advanced sensor fusion, ranging, and patented dynamic mapping algorithms. NEON patented location technology provides the foundation for a number of commercial applications including NEON Personnel Tracker and NEON Signal Mapper.
TRX Systems is the recipient of the Silver Edison Award for Innovation in the Navigation and Robotics category, the Tibbetts Award given by the U.S. Small Business Administration for Innovation and Economic Impact of Research and Development, the TEDCO ICE Award for Corporate Excellence and the Innovator Award from the Chesapeake Regional Tech Council (CRTC). TRX's indoor location software development has been supported by the National Science Foundation, the Defense Advanced Research Projects Agency (DARPA), the U.S. Army, and the Department of Homeland Security.