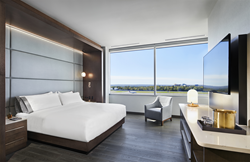 The TSA access checkpoint on the 3rd floor is one of our best amenities.
MINNEAPOLIS (PRWEB) March 25, 2020
In collaboration with the TSA and the MSP Airport Authority, the InterContinental Minneapolis – St. Paul Airport hotel announced today that visitors to the hotel can now access the skyway and connect directly into MSP International Airport until 6:00 PM.
While the TSA checkpoint at the InterContinental Hotel had previously been open from 4:45 a.m. to 10:00 a.m., the TSA has agreed to reassign staff to the skyway checkpoint for longer hours due to the COVID-19 impact.
The checkpoint at the InterContinental Hotel MSP is accessible via the 3rd floor of the hotel, and is open to both hotel guests and any visitor that would like to access the airport through the skyway. Guests may only bring carry-on luggage and must have already procured their boarding pass. Guests with checked bags can take advantage of the hotel's complimentary shuttle service.
"We feel the convenience of the TSA access checkpoint on the 3rd floor is one of our best amenities," said Paul Ohm, General Manager, "we were delighted that the TSA has expanded our hours, and feel that this adds to the guest experience."
Reservations for the hotel may be booked both online by visiting IntercontinentalMSP.com, or by calling, 877-424-2449.
About Graves Hospitality:
Graves Hospitality turns ideas into action and Real Estate into enterprise. GH offers a comprehensive range of development and management services adeptly tailored to answer the unique needs of independent and branded hotels, resorts and restaurants as well as residential and commercial projects. The company's development skills and management services, including sales, marketing, distribution, human resources and accounting, are honed by over 40 years of continued success. Consistently recognized as an industry leader, GH has developed and managed more than 100 hotels and restaurants, as well as residential and commercial developments. GH is passionate about providing owners, guests and associates with an unparalleled level of service and expertise. Partnering with smart, creative and sincerely enjoyable people and then fiercely maintaining those relationships, results in a positive synergy that naturally fosters success. GH takes great pride in being able to identify, develop, build and manage projects that create great profits for our investors. To learn more information about GH visit http://www.graveshospitality.com.