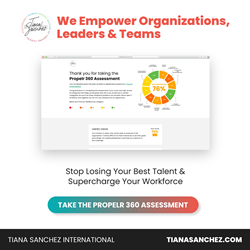 Our PROPELr 360 Assessment and customized action plan can improve your recruitment efforts, help you retain top talent, and increase employee effectiveness by 30-40%. - Tiana Sanchez, TSI LLC CEO and Founder
LOS ANGELES (PRWEB) February 02, 2023
To help organizations in 2023 foster more "confident, competent, caring and collaborative work environments", TSI CEO and Executive Coach Tiana Sanchez announces the launch a new PROPELr 360 Assessment tool that is no cost. Executives and leaders can get invaluable feedback by taking this ten-minute survey that evaluates 10 Vital Success Pillars using 49 multiple-choice questions. Tiana Sanchez International (TSI LLC) then sends a personalized report with recommended action items to fast-track positive change.
With companies and employees facing uncertainty in 2023, this assessment offers leaders a new and easy way to quickly evaluate their strengths and areas for improvement. And with only 21% of employees currently engaged at work (State of the Global Workforce: 2022 Report, Gallup) and only 23% trusting organizational leaders (Gallup, 2022), leaders must look closely at their company's foundation on many different levels.
Tiana Sanchez expands, "Culture and leadership are essential to the success of any company, and it's important for leaders to do regular reviews. Our PROPELr 360 Assessment and customized action plan can improve your recruitment efforts, help you retain top talent, and increase employee effectiveness by 30-40%."
By focusing on the unique set of circumstances for each organization, TSI uses this new PROPELr 360 Assessment tool to help companies improve using this 3-step process:

1. Evaluate the 10 Vital Success Pillars by asking a series of questions.
2. Diagnose and examine the root cause of the problem or organization's pain.
3. Tailor a custom success plan to help solve the problems for the organization that fixes any workplace dysfunction and helps teams perform at their best level.
This unique framework allows leaders to really dig deep into the core of a company to see what is working and what could be done better. Leaders are asked to honestly to rate the effectiveness of their organization in key areas.
PROPELr 360 Assessment evaluates 10 Vital Success Pillars:

1. Unified Vision
2. Clear Roles and Responsibilities
3. Skills and Competencies
4. High Impact Activities
5. Leadership Effectiveness
6. Effective Communication
7. Strong Accountability
8. Generational and Cultural Intelligence
9. Success Habits
10. Performance Measurement
Based on the survey results, TSI creates a custom plan to train leaders to be more effective and build a team that supports their company vision and mission. Working with the organization's leaders, TSI then helps retool the workplace to be more proficient based on the skills needed most.
To help organizations thrive overall, TSI offers four core Services, including: Executive Coaching, Talent Management, Workplace Surveys and Keynote Speaking. Sanchez adds, "We focus on the leadership first, and then the workforce in order to help your organization work smarter in an ever-changing workplace."
To take TSI LLC's PROPELr 360 Assessment, visit
https://tianasanchez.com/the-problem/
Media Contact:
Liz Kelly, 310-987-7207
ABOUT: Tiana Sanchez is CEO and Founder of TSI LLC, a Number 1 Bestselling Author, Keynote Speaker, and Host of the Like a REAL Boss podcast with 100 episodes reaching 26 countries. Tiana Sanchez International (TSI LLC) is a Certified Woman-Owned Business focused on talent and leadership development. Tiana got her career start at 16 with the 90% female-led national franchise organization Hot Dog on a Stick. Sanchez became a manager there at 17, was promoted to Regional Manager, and welcomed the company as her first consulting client. Tiana's public and private sector corporate training client list includes Sony Pictures, BMW, Mercedes Benz, California State University Long Beach, among many others. She is the author of "Undefeatable" and "F'D Up – The UPside of Failure". A Women of Distinction Awardee, she has completed certificate programs with American Management Association and Ken Blanchard Companies. Sanchez's work has been featured on KTLA, Voyage LA, Black Hollywood Live, WITI (Women In Technology International), and many podcasts. https://tianasanchez.com