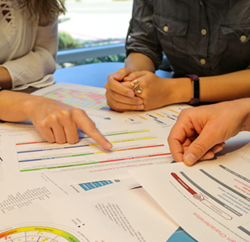 SCOTTSDALE, Ariz. (PRWEB) November 07, 2018
TTI Success Insights has launched an exciting contest to help one lucky winner improve its company culture.
"Culture Rescue" features Messy Strategy founder Ashley Bowers as she seeks to revamp and rescue business cultures that have otherwise unsolvable cultural challenges. Bowers and her team of industry experts understand the science behind the individuals who make up the culture and take a robust and inclusive approach to preserve culture, tackling everything from core values to execution.
Open to all Metro Phoenix businesses, Culture Rescue nominations can be made online. There is no cost to enter. The winning company will receive a free executive coaching session, including the use of TTI Success Insights' award-winning assessments and a professional debriefing. The contest's goal is to help one local company create a culture of success while aligning the employees to that vision.
For more than 34 years, TTI Success Insights has produced industry-leading assessments that help companies of all shapes and sizes including GE, Volvo, and Verizon build high-performing teams and better engage their workforce.
Companies interested in participating can sign up for the contest by going to https://www.ttisicon.com/culture-rescue/.
The winner will be chosen on December 3, 2018, and notified immediately.
About TTI Success Insights:
TTI Success Insights reveals human potential by expanding the awareness of self, others, and organizations. Diving deeper than DISC, TTI SI provides professionals solutions to hire, engage and develop the right people and build strong teams. To learn more, visit ttisuccessinsights.com.