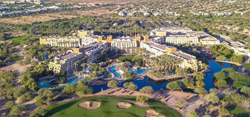 This year, we are evolving the content, diversifying the attendee list and moving to a new, luxurious location. We also have a brand-new format supporting one goal: embracing talent to accelerate business success
SCOTTSDALE, Ariz. (PRWEB) July 31, 2018
TTI Success Insights, the world's go-to resource for research-based validated assessment and talent management solutions, is proud to announce that its annual International Conference, which brings together the brightest minds of the management consulting industry, will be open to the public for the very first time. The event takes place January 11, 2019.
The TTI Success Insights annual conference is a cohesive journey designed to help seek out and engage the highest-level talent during unpredictable employment economies. Attendees will experience a transformational journey and rally around one primary goal: getting the best talent for a business. The annual conference takes place at an exciting new venue next year, the JW Marriott Desert Ridge in Phoenix, Arizona.
Featuring multiple keynote speakers including Molly Fletcher and Frans Johansson, TTISICON2019 is filled with valuable insights, cutting-edge business practices and motivational content that makes its one of the preeminent conferences to attend for anyone in the management consulting industry.
Fletcher, a former sports agent turned motivational speaker, discusses Shifting Your Modality to create transformational change in the absence of crisis. Johansson, the author of The Medici Effect, uncovers ways to use Convergence to Create Breakthroughs.
"This year, we are evolving the content, diversifying the attendee list and moving to a new, luxurious location. We also have a brand-new format supporting one goal: embracing talent to accelerate business success", said President of Global Distributor, Rick Bowers.
Previously reserved solely for members of the TTI Success Insights network of professional consultants, the Conference will be open to members of the general public, especially those with an interest in the management consulting industry. TTISICON2019 is the place to learn from the brightest minds in the industry, connect with others to share best business practices and become inspired to maximize your potential within your field of expertise.
To learn more about the event, visit http://www.ttisicon.com.