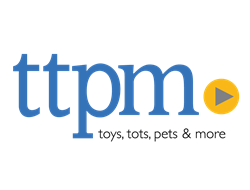 "We're thrilled to share a dedicated list of our favorite new games for the holiday season," said Jim Silver, CEO, TTPM.
NEW YORK (PRWEB) October 22, 2020
TTPM, the leading video product reviewer for toys, baby gear & pet gear, today announces their list of Favorite New Games for 2020. Revealed via video, the list contains 20 games from the biggest toy companies to brands you may not have heard of yet. All offer laughs, excitement and a whole lot of fun this holiday season.
"We're thrilled to share a dedicated list of our favorite new games for the holiday season," said Jim Silver, CEO, TTPM. "So many people are spending more time at home this year with limited entertainment options, so the toy industry has seen a massive spike in board game sales as they offer great entertainment for kids and adults at very affordable prices."
Last month, TTPM announced their 2020 Most Wanted List with the hottest products in Entertainment, Learning and Active Play, Role Play, and Games and Activities. Now, this list focuses on our favorite new games of the year, just in time for the holidays. The TTPM editorial team reviews thousands of toys each year, and develops recommendations based on what's new, on-trend, high-performing, fun, buzz-worthy, and available to consumers.
The TTPM Favorite News Games for 2020 (in alphabetical order) are:
#UpsideDownChallenge Game - Vango
BUILDZI - CARMA Games
Buzzfeed Listicles - Buffalo Games
Camera Roll - Endless Games
Deer Pong - Hasbro
Don't Get Got! - Big Potato Games
Drone Home- PlayMonster
Family Feud Kids vs. Parents – Cardinal Games
Gridopolis - Gridopolis
Grouch Couch - Cardinal Games
Disney The Haunted Mansion - Funko
Johnny the Skull - Goliath
Maze Racers - Foxmind
Operation Pet Scan - Hasbro
Pick-Up Pete - Fotorama
Power Haus - Adventerra
Super Mario Monopoly - Hasbro
Twiggle Game - Twiggle
Uno Showdown - Mattel
Who's the G.O.A.T. ? - Big G Creative
Watch the video unveiling here. For more information and to view details on TTPM's Favorite New Games For 2020 and the 2020 Most Wanted List, please visit TTPM.com.
About TTPM
TTPM (Toys, Tots, Pets & more) is the leading and largest video reviewer of Toys, Baby Gear, and Pet Products. Consumers can research products on TTPM's website or YouTube Channels before buying online or purchasing in store. TTPM YouTube Toy Channel is the #1 channel viewed by parents looking to buy toys. TTPM creates video reviews for more than 3,000 products yearly in their own studio.