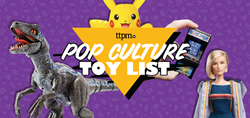 "There's an immediate awareness and cool factor that will make these toys top wish lists of all kidults who like to play and collect," says TTPM CEO Jim Silver.
NEW YORK (PRWEB) November 07, 2018
Today, TTPM®, the leading video review site for Toys, Tots, Pets, & More, announced its list of the top pop culture toys of 2018.
The TTPM Pop Culture Toy List varies from blockbuster movie franchises such as Jurassic World, Harry Potter and the Marvel Cinematic Universe to cultural icons like Bob Ross. The list also features perennial classics such as Pokémon and Mickey Mouse. One pick highlights Dr. Pimple Popper and the zit-popping toy craze.
"The collectibles segment of the toy business continues to be one of the fastest growing categories because of the wide age demographics of those wanting these types of toys," says Jim Silver, CEO, TTPM. "There's an immediate awareness and cool factor that will make these toys top wish lists of all kidults who like to play and collect."
TTPM's Top Picks are as follows:
Arcade1Up — Tastemakers
Arcade1Up looks and plays just like the retro games from the '80s and '90s you remember. What makes them special is they are only four feet tall and are a fraction of the cost of a full-sized arcade version. Some of the games include Street Fighter II, Rampage, Asteroids, etc
Arcade Classics — Basic Fun!
Those looking for a smaller desk-friendly, retro game fix will find these mini handheld arcade machines, featuring old-school classic video games such as Tetris, Q*bert, and Centipede, perfect for any desk at home or at work.
Bob Ross: Happy Little Accidents Party Game—Big G Creative
When it comes to branded products, Bob Ross is becoming the Elvis of the art world. This new party game has players creating artwork from random doodles (i.e. happy little accidents). The game, featuring the late painter, is for all ages.
Disney Princess Comic Collection—Hasbro
The Disney Princesses are timeless icons as kids and adults continue to emulate their favorite princesses every day. Older collectors will love the new comic look for these classic characters, while younger kids will love using the figures to roleplay their next adventure.
Dr. Pimple Popper Pimple Pete Game—Spin Master
Dr. Sandra Lee (aka Dr. Pimple Popper) is known for her pimple-popping skills, and now she's lent her name to this game. It provides gross-out play as players compete to extract pimples without causing any pimple explosions.
Dr. Who Barbie Doll—Mattel
The Doctor Who Barbie® Doll draws inspiration directly from the Thirteenth Doctor, the series' first-ever female doctor. True-to-character details bring Jodie Whittaker's character to life, while also highlighting the Doctor's brand new sonic screwdriver.
Harry Potter Coding Kit — Kano
This year celebrates Harry Potter's 20th anniversary, and this Kano kit gets our vote for introducing a little real-world magic for Potterheads through the power of coding. You might not be going to Hogwarts anytime soon, but you can advance your programming skills through some fantastic on-screen lessons and spell casting.
Harry Potter Dolls—Mattel
Mattel celebrates the 20th anniversary of Harry Potter with this lineup of dolls that features the Wizarding World's most beloved characters including Harry Potter, Hermione Granger, and Ron Weasley.
Jurassic World Alpha Training Blue — Mattel
Hold onto your butts, because this is the most advanced dinosaur toy to ever hit retail. Fans can train Blue just like Owen Grady does in Jurassic World, but it's the lifelike movement of this dinosaur toy that will have you thinking you've been transported straight into the film.
Marvel Legends Avengers Infinity Gauntlet — Hasbro
Fans get to roleplay as one of Marvel's baddest villains with this electronic Infinity Gauntlet replica. Feel like Thanos and wield the power of the infinity stones, or just display it prominently on a shelf—either way its scale and sound effects make it a must-have for Marvel collectors.
Marvel Legends Black Panther Helmet — Hasbro
Black Panther is officially a top-grossing movie of all time and the first MCU film with a predominately black cast. So there's a good reason fans want to roleplay as T'Challa and the rest of the cast. While this helmet might not be made of real Vibranium like the gear in Wakanda, it's loaded with techie features that will delight any Marvel geek.
Mego Icon Figures - Mego
Collectible action figures are a hot commodity and Mego, the originator of the licensed action figure, marks its comeback with a vast assortment of iconic celebrity figures from television, movies, and music. Trekkies: Be on the hunt for the new Mego Star Trek Lt. Sulu and Chekov figures that made their debut.
Mickey the True Original Mickey Through the Years Stuffed Toy
Collection—Just Play
Mickey Mouse started it all for Walt Disney when he debuted in 1928, and this year Mickey celebrates his 90th anniversary. This plush collection pays tribute to his iconic looks throughout the years, from Steamboat Willie to modern day.
Monopoly Fortnite — Hasbro
Fortnite became an almost overnight hit with gamers all over the world. Nintendo even reported that the game is almost as popular as Mario and Zelda amongst its Switch users. This Fortnite edition of the Monopoly board game replaces money with HP, provides dozens of avatars to choose from, and has the well-known Fortnite Storm replacing Chance.
Pokémon Power Action Pikachu—Wicked Cool Toys
Thanks to a constant stream of new content for fans (including Pokémon Go and the highly anticipated 2019 movie, Detective Pikachu), Pokémon has maintained a dedicated fanbase for more than two decades. The cute Pikachu remains a fan-favorite and this version of the character comes to life with lights, sounds, and multiple modes of play for today's generation of trainers (young and old).
Tiny Arcade—Super Impulse
The Tiny Arcade versions of Ms. Pac-Man, Space Invaders, and other classics are so small they fit in your pocket, but also have realistic lights and sounds and play like the original arcade games.
About TTPM
TTPM (Toys, Tots, Pets & more) is the leading and largest video reviewer of Toys, Baby Gear, and Pet Products. Consumers can research products on TTPM.com or its YouTube Channels before buying online or purchasing in stores. TTPM produces more than 5,000 product reviews per year, which easily makes it the most comprehensive video webroom in the world.
To see the full list, visit: https://ttpm.com/mostwanted/hot-pop-culture-toys-2018/