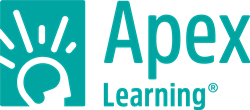 "We selected Apex Learning because they offered the most expansive and flexible digital curriculum that will allow us to scale district-wide while flexing from online to a hybrid model without sacrificing a disruption in student learning or quality of instruction." --James Butler, TUSD
SEATTLE and TUCSON, Ariz. (PRWEB) August 04, 2020
Apex Learning, a recognized leader in online learning, announced that following a rigorous RFP process, Tucson Unified School District (TUSD) in Tucson, Arizona, selected Apex Learning Digital Curriculum to support the district's comprehensive online instruction and intervention for the next five years. The contract will support grades 6 - 12 with Apex Learning Courses and Tutorials.
"Our mission is to ensure that every student receives an engaging, rigorous and comprehensive education," said James Butler, TUSD Senior Director, Instructional Technology & Online Education, Tucson Unified School District. "We were looking for a partner with expertise in online learning, and we selected Apex Learning because they offered the most expansive and flexible digital curriculum that will allow us to scale district-wide while flexing from online to a hybrid model without sacrificing a disruption in student learning or quality of instruction."
Apex Learning curriculum will seamlessly integrate with the district's technical vision, simplifying the implementation process from day one, but also supporting their success throughout the process. Apex Learning Tutorials will be used to strengthen skills, address learning gaps and provide personalized, scaffolded pathways for students to mitigate COVID-19 and summer slide, boost readiness to succeed on grade-level and provide students with opportunities for personalized acceleration. Apex Learning Courses will be used in middle school and high school for intervention, remediation, initial credit and within the district's alternative schools.
"Ensuring students' progress in their learning is always top of mind for educators," said Chris Porter, CEO, Apex Learning. "Now, more than ever, that need is magnified and teachers need resources from partners they can trust to help them identify and address learning loss and ensure every student is on track. Our partnership with Tucson Unified School District will provide consistent, quality instruction for the district's 6-12 grade students as well as ongoing support and professional development for educators."
Given the uncertainty of the recent surge of COVID-19 cases, the district will be reopening virtually at the beginning of the school year with the potential to move to a hybrid model at some point in the future. Students will also have the option to remain 100 percent online. Whether it's face-to-face, online or a hybrid model, Apex Learning will be able to support the district with any of those learning options.
To learn more about Apex Learning Courses and Tutorials, visit: https://www.apexlearning.com/digital-curriculum.
About Apex Learning
An industry leader in online education with deep expertise in digital curriculum, Apex Learning works closely with school districts across the country to implement proven solutions that increase on-time graduation rates and create opportunities for student success in school and beyond. The company is driven by the understanding that supporting the needs of all students – from struggling to accelerated – strengthens schools and creates stronger communities, brighter futures and a more equitable world. Apex Learning is accredited by AdvancED and its courses are approved for National Collegiate Athletic Association eligibility. Apex Learning, where opportunity thrives. For more information, visit http://www.apexlearning.com
About Tucson Unified School District
Tucson Unified School District is Southern Arizona's largest district, educating more than 45,000 students. TUSD offers extensive learning opportunities for children, including Advanced Placement, GATE and International Baccalaureate, free full-day kindergarten, a focus on STEM (Science, Technology, Engineering and Math), studies in seven world languages, fine arts, before and after school programs, and more. TUSD has proudly served Tucson families since 1867. http://tusd1.org/