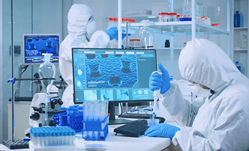 JUPITER, Fla. (PRWEB) February 22, 2021
The award-winning series, Advancements with Ted Danson will broadcast a new episode on Saturday, February 27, 2021 via CNBC. Check local listings for more information.
Explore Natural State Genomics' (NSG) state-of-the-art molecular and next generation sequencing laboratories (Natural State Labs) as Advancements uncovers how NSG is helping clinicians and patients make the most of individual genetic differences. Audiences will see how by partnering with leading manufacturers of genotyping technologies, NSG is able to identify unique variations and deliver accurate results.
Learn how the push for the COVID-19 vaccination has created a paradigm shift that ClinPro Trials is spearheading. Viewers will see how ClinPro Trials oversees the different phases of a clinical study, from concept to commercialization, and how CROs like ClinPro Trials ensure that the necessary compliance controls are implemented during the execution of each clinical trial phase.
With a look at Hydromax USA (HUSA), a professional services firm specializing in advanced data collection in support of locating and assessing the condition of the country's aging water, wastewater, and natural gas conveyance systems, viewers will learn how its vast experience with new technologies and techniques empowers contractors, engineers, and utility owners to make the best decisions regarding buried infrastructure.
This segment of Advancements will explore Weigh Safe's patented trailer hitch ball mount with built-in scale for measuring tongue weight. Spectators will see how the patented technology has revolutionized the industry and created an even more important demand for safety and performance. They will also learn how Weigh Safe's product development and manufacturing team continues to innovate in the development of towing products, along with new innovative towing accessories.
"From science and technology to manufacturing and machinery, we look forward to exploring how innovation continues to impact society," said creative director, Sarah McBrayer, DMG Productions and Advancements.
About Advancements and DMG Productions:
The Advancements television series is an information-based educational program, targeting recent advances across a number of industries and economies. Featuring state-of-the-art solutions and important issues facing today's consumers and business professionals, Advancements focuses on cutting-edge developments, and brings this information to the public with the vision to enlighten about how technology and innovation continue to transform our world.
Backed by experts in various fields, and a team dedicated to education and advancement, DMG Productions consistently produces commercial-free, educational programming on which both viewers and networks depend.
For more information visit http://www.AdvancementsTV.com or call (866) 496-4065.