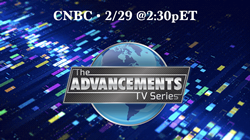 JUPITER, Fla. (PRWEB) February 05, 2020
Advancements with Ted Danson will broadcast Nationwide via CNBC on leap day, Saturday, February 29, 2020 @2:30pET. Check local listings for more information on this program. 
In this segment, viewers will learn about Climax Portable Machine Tools (CLIMAX) – the leading global manufacturer of portable machining, welding, and advanced valve testing systems. The show will explore how innovation has touched many industries and will educate about recent advances in portable machine tool systems, that are principally used in manufacturing, maintenance, repair, and overhaul applications where machining work is performed at the installed location of the equipment.
Get a behind-the-scenes look at the latest innovations in pathogenic DNA analysis technology as Advancements discovers how Rivermap Research & Consulting uses technology to predict in real time the possible human health impacts from microorganisms, proteins, or any manmade DNA strains..
Cryptocurrency and the blockchain have seen impressive growth rates throughout the last few years. In this segment, learn how the implementation of blockchain technology is disrupting industries across the globe as Advancements explore how Eidoo's secure and simple service gives back transparency and full control over financial assets, while making blockchain technology more accessible to everyone.
Travel to Lausanne, Switzerland to learn how the synergy between therapeutic and artificial intelligence innovation is aiding in the fight against cancer. Audiences will hear from innovators at Debiopharm, known for their dedication to advances in biopharmaceutical research, development, investment, and manufacturing.
"As technology and innovation continue to alter our world, we remain dedicated to exploring the latest and greatest advancements impacting society today," said Dustin Schwarz, programming director for the Advancements series. "We are excited to share this vital information with our viewers."
About Advancements and DMG Productions:
The Advancements television series is an information-based educational program, targeting recent advances across a number of industries and economies. Featuring state-of-the-art solutions and important issues facing today's consumers and business professionals, Advancements focuses on cutting-edge developments, and brings this information to the public with the vision to enlighten about how technology and innovation continue to transform our world.
Backed by experts in various fields, and a team dedicated to education and advancement, DMG Productions consistently produces commercial-free, educational programming on which both viewers and networks depend.
For more information visit http://www.AdvancementsTV.com or call (866) 496-4065.