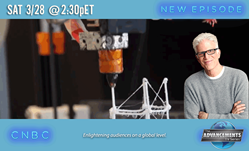 "It's amazing to see how technology and innovation continue to alter our world," said Dustin Schwarz, programming director for the Advancements series. "We are excited to bring this information to our viewers."
JUPITER, Fla. (PRWEB) March 23, 2020
Broadcasting Nationwide on Saturday, March 28, 2020 @2:30 pm ET via CNBC, Advancements with Ted Danson will discover the latest technological breakthroughs taking place throughout society. Check local listings for more information on this program.
Advancements will educate about Contollo Consulting (Contollo) – a company that helps organizations successfully implement and expand their own software projects by empowering team members to create a true line of business. Travel to Masaya, Nicaragua, to discover how Contollo helps business units communicate effectively so that they can bridge the gaps needed to complete projects on time and within budget.
With a focus on Innovative Sewer Technologies of North America's (I.S.T.) advanced sewer technologies, the show will uncover how I.S.T has become one of the leading developers of infrastructure rehabilitation equipment. Watch to learn about the development of and functionality behind I.S.T technologies, which include UV Cure Equipment, Robotic Cutter Systems, and Lateral rehabilitation technologies.
Thanks to the latest improvements in technology and materials, additive manufacturing is gaining momentum throughout the manufacturing industry as a viable option for mass production. In this segment, Advancements will explore how 3D printing is disrupting manufacturing and supply chains around the globe. Hear from Desotech Inc (DSM)  to see how the company uses its products and solutions to address some of the world's biggest challenges, while simultaneously creating economic, environmental, and societal value for all its stakeholders, in its goal to create brighter lives for all.
Finally, tune in to find out how developments in automated storage and retrieval systems are helping to provide a more cost-effective and productive solution to the automation industry as we look at Avar Robotics' Coda robotic system and follow-up robotic system, Prefius.
"It's amazing to see how technology and innovation continue to alter our world," said Dustin Schwarz, programming director for the Advancements series. "We are excited to bring this information to our viewers."
About Advancements and DMG Productions:
The Advancements television series is an information-based educational program, targeting recent advances across a number of industries and economies. Featuring state-of-the-art solutions and important issues facing today's consumers and business professionals, Advancements focuses on cutting-edge developments, and brings this information to the public with the vision to enlighten about how technology and innovation continue to transform our world.
Backed by experts in various fields, and a team dedicated to education and advancement, DMG Productions consistently produces commercial-free, educational programming on which both viewers and networks depend.
For more information visit http://www.AdvancementsTV.com or call (866) 496-4065.