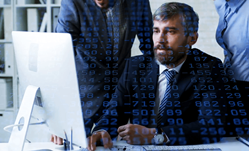 JUPITER, Fla. (PRWEB) March 22, 2021
Advancements with Ted Danson is scheduled to broadcast a new episode on Saturday, March 27, 2021 via CNBC. Check local listings for more information.
Exploring current issues surrounding access to affordable and equitable healthcare, this segment explores how developments in technology and research are closing the gap on healthcare patient access. Watch as producers travel to Rolla, Missouri to learn how rural hospitals, like Phelps Health, are using research to innovate healthcare and to improve the health and wellness of local communities.
Shifting focus, the series will educate about Attention Deficit Disorder (ADD), the most common childhood neurodevelopmental disorder. Viewers will hear how this condition that was once thought to be mainly associated with children is now being understood to last well into adulthood. The segment will highlight WeVibin's research-driven technology for decreasing impulsivity, reducing anxiety, and increasing auditory and visual attention, and will explore how it is helping to improve cognitive performance for adults with attention deficit.
Discover how experts in solving some of the hardest data problems are helping businesses bridge the gap between the complexities of blockchain data and traditional business needs. Hearing from experts in the field, Advancements will educate about Lukka's ability to help organizations turn blockchain data into easy-to-use information.
Viewers will also learn how breakthroughs in the use of ultrasonic technology are creating a more sustainable process for cleaning heat exchangers. Featuring Clean As New Gulf Coast LLC, spectators will see how the company uses Tech Sonic's Ultrasonic Technology, automated hydroblasting, and a proprietary water recycling system, to set a new standard of technical, social, and environmental responsibility in the cleaning industry.
"We look forward to highlighting how technology is improving our world, from advances in healthcare and wellness to solutions in business and sustainable initiatives," said Sarah McBrayer, creative director for DMG Productions and Advancements.
About Advancements and DMG Productions:
The Advancements television series is an information-based educational program, targeting recent advances across a number of industries and economies. Featuring state-of-the-art solutions and important issues facing today's consumers and business professionals, Advancements focuses on cutting-edge developments, and brings this information to the public with the vision to enlighten about how technology and innovation continue to transform our world.
Backed by experts in various fields, and a team dedicated to education and advancement, DMG Productions consistently produces commercial-free, educational programming on which both viewers and networks depend.
For more information visit http://www.AdvancementsTV.com or call (866) 496-4065.