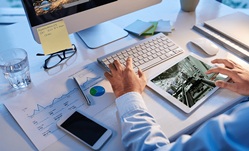 JUPITER, Fla. (PRWEB) May 17, 2021
Advancements with Ted Danson is scheduled to broadcast a new episode on Saturday, May 22, 2021 via CNBC. Check local listings for more information.
In this episode, Advancements will explore Human Appeal's dedication to changing lives for the better. Using sustainable technologies – like solar energy – to provide water, power, and light to people near the Indian-Pakistan border, spectators will see how the company helps people during devastating events, relieving victims and providing a number of services, including trauma clinics and rebuilding houses.
Highlighting the importance of industrial cleaning throughout the production chain, the show will also educate about innovations in sustainable industrial cleaning applications. Viewers will see how P-Laser's industrial ablation laser cleaning equipment is being used to treat and clean surfaces in a simple and environmentally friendly way, and how it is helping companies to reduce waste and production time, while increasing efficiency and eliminating the use of consumables.
Advancements will also explore how BECK Strategies Inc. (BECK) is moving I.T. operations from a reactive team to a proactive team via its ServiceNow® platform. Helping businesses achieve goals, create more efficient processes, and move forward within their industries, the show will discover how the platform is driving businesses into the future.
Finally, with a look at LEVEL, audiences will hear from experts in the field of biomolecular medicine to learn how science is fostering research and innovation, and how it continues to uncover the untapped potential of cannabinoids.
"With each new episode there is more opportunity for discovery," said Sarah McBrayer, creative director for DMG Productions and Advancements. "We look forward to enlightening viewers and sharing this information with the public."
###
About Advancements and DMG Productions:
The Advancements television series is an information-based educational program, targeting recent advances across a number of industries and economies. Featuring state-of-the-art solutions and important issues facing today's consumers and business professionals, Advancements focuses on cutting-edge developments, and brings this information to the public with the vision to enlighten about how technology and innovation continue to transform our world.
Backed by experts in various fields, and a team dedicated to education and advancement, DMG Productions consistently produces commercial-free, educational programming on which both viewers and networks depend.
For more information visit http://www.AdvancementsTV.com or call (866) 496-4065.