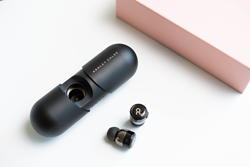 We believe we've achieved that with LUX, by combining top of the line bluetooth technology, high-quality materials and our signature chic design.
SAN MATEO, Calif. (PRWEB) November 06, 2018
Today marks the highly anticipated launch of LUX, the first foray into the true wireless earbud category from fashion-focused technology brand, Ashley Chloe. Designed with style and function in mind, these earbuds pack a powerful punch, yet are small enough to comfortably and securely fit in the specific contours of the female ear. Released just in time for the holidays, the LUX earbuds are the perfect gift solution for tech-savvy and fashion-focused women.
"Continuing on from the success of our last product, the Helix Cuff, we wanted to create a wireless earbud product that was both fashion-forward and female-focused, yet did not compromise on value or quality," said Angela Pan, CEO and co-founder of Ashley Chloe. "We believe we've achieved that with LUX, by combining top of the line bluetooth technology, high-quality materials and our signature chic design."
Premium Sound and Bluetooth 5.0
The Ashley Chloe LUX is made with a premium mylar diaphragm, that produces an impressive amount of bass. Enjoying music, listening to podcasts, and making calls on-the-go is a whole new experience with the world's smallest Bluetooth stereo cordless earbuds.
Using LUX is truly effortless, as the earbuds automatically turn on upon removal from their case, and connect using Bluetooth 5.0, the most stable true wireless connection available on the market. Take calls or control your music directly from each earbud, saving you precious time that would have been spent searching for your phone in your bag.
LUX is equipped with the latest MediaTek 1526P True Wireless Chipset with Bluetooth 5.0®, Bluetooth Low Energy (BLE), and Laser Direct Structuring (LDS) Antenna Technology.
Long Lasting Battery and Charging Case
Despite it's small size, LUX pulls its weight in outstanding battery life. With a full charge, the Ashley Chloe LUX will provide you with 3.5 hours music/talk time. When not in use, LUX earbuds last for up to 70 hours while powered on. When powered off, LUX earbuds can last in standby for up to 120 days. Equipped with high-power batteries to meet the demands of connected users, the Ashley Chloe LUX earbuds are meant to withstand your busy days, so you can rule the world, break through the glass ceiling, and then take a well-deserved break.
Ashley Chloe also recognizes a need for on-the-go charging. The LUX earbuds are housed in a premium, durable, and attractive stainless steel case that charges earbuds 3x, providing 15+ hours of play or talk time.
LUX earbuds are now available for purchase for $99.99 at https://www.ashleychloe.com, Target, and Amazon.
Hi-res images are available for download here. Media samples are available upon request.
About Ashley Chloe - Established in 2014, Ashley Chloe is a fashion-focused technology brand in the San Francisco Bay Area. Its goal is to break the notion that technology and fashion must be separate. Its values translate into its concepts. Ashley Chloe believes in a creative workplace that values every opinion equally, honing its focus in on innovating powerful elegance into modern engineering.