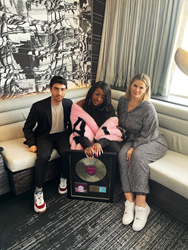 Commented Andreea Gleeson, Co-Head and Chief Revenue Officer, TuneCore, "At TuneCore, our artist's successes motivate us to continue to grow and hone our services. In doing so, we can better serve artists like CupcakKe, who have achieved RIAA certified gold, as well as all of the aspiring DIY artist
CHICAGO (PRWEB) April 29, 2021
The Recording Industry Association of America (RIAA) announced today that Chicago-based rapper, singer and songwriter CupcakKe's viral hit, "DEEPTHROAT" has been certified GOLD, which denotes five hundred thousand units based on sales and track-equivalent on-demand streams.
The honor follows CupcakKe's recent release of "Mosh Pit," which reached No.1 on the US iTunes chart, her second song to do so. She remains the only independent female rapper to have No. 1 songs on the iTunes chart.
Said CupcakKe, "I really appreciate this gold record. It really shows how independent artists can achieve amazing things on their own! Thanks to TuneCore for giving the support needed to make it on my own terms and for believing in my vision. I'm beyond grateful"
Commented Andreea Gleeson, Co-Head and Chief Revenue Officer, TuneCore, "At TuneCore, our artist's successes motivate us to continue to grow and hone our services. In doing so, we can better serve artists like CupcakKe, who have achieved RIAA certified gold, as well as all of the aspiring DIY artists who dream of one day doing the same,"
###
About TuneCore
TuneCore is the global platform for independent musicians to build audiences and careers – with technology and services across distribution, publishing administration and a range of promotional services. TuneCore Music Distribution services help artists, labels and managers sell their music through Spotify, Apple Music, Amazon Music, JioSaavn, Deezer, TikTok and more than 150 download and streaming stores worldwide, while retaining 100 percent of their sales revenue and rights for a low annual flat fee. TuneCore Music Publishing Administration assists songwriters by administering their compositions through licensing, registration, worldwide royalty collections, and placement opportunities in film, TV, commercials, video games and more. The TuneCore Artist Services portal offers a suite of tools and services that enable artists to promote their craft, connect with fans, and get their music heard. TuneCore, part of Believe, is headquartered in Brooklyn, NY, with offices in Los Angeles, Nashville, Atlanta, and Austin, and global operations in the UK, Australia, Japan, Canada, Germany, France, Italy, Russia, India, Brazil as well as the LATAM, Africa and SEA markets. http://www.tunecore.com
About Believe
Believe is a world leading digital music company, helping artists and labels to build their audiences and careers, at all stages of their development, in all local markets around the world with respect, expertise, fairness and transparency. Pioneer in the digital world, Believe has developed an in-house technology & data organization, providing global distribution and digital marketing solutions. With more than 1,500 professionals in 50+ countries, Believe owns several brands, labels and companies including TuneCore, Nuclear Blast, Naïve, Groove Attack and AllPoints.http://www.believe.com
For further information, please contact:
TuneCore
Maria Ho-Burge
maria@tunecore.com
RIAA
Liz Kennedy
lkennedy@riaa.com