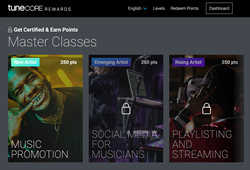 TuneCore Rewards places a roadmap to success in the artist's hands, eliminating the guesswork. We provide them with the tools and guidelines they need to grow their careers to avoid pitfalls and progress more quickly. It's the first program of its kind and I'm happy to announce it's completely free
BROOKLYN, N.Y. (PRWEB) March 04, 2021
Leading independent digital music distributor TuneCore, owned by Paris-based digital music company Believe, has launched two new groundbreaking programs created to empower independent artists: TuneCore Rewards and TuneCore Certified. The announcement was made today by Andreea Gleeson, Chief Revenue Officer and Co-Head of TuneCore.
TuneCore Certified awards artists with digital plaques to celebrate milestones for total streams achieved by a single or an album. The awards program was inspired by traditional music industry artist recognition plaques. The personalized awards are achieved once a given streaming threshold from 100 all the way to 1billion is reached across all streaming services including Spotify, Apple Music, Amazon and YouTube. The badges are social media ready so that artists can easily share their streaming milestones.
Stated Gleeson, "We created this program in order to celebrate independent artists' success. It's the modern iteration of the plaques artists get when their album or single has sold – or equivalently streamed - 500,000 or 1 million copies or more. For as much as TuneCore democratized the music industry and made it easy for independent artists to distribute their music, these badges democratize the recognition of success and achievement, making it attainable for all levels of artists, from hobbyists and beginners to full-time creators."
TuneCore Rewards is a first of its kind, multi-level educational program where artists can unlock rewards and VIP status through career education (launching at the end of March, currently in Beta). This is a free program for TuneCore artists and part of the company's ongoing efforts to be more than just a distribution company, by providing more value for independent artists who choose TuneCore as their distributor.
Early levels of TuneCore Rewards provide high quality curated Master Class education videos from industry experts that take the guesswork out of best practices for independent artists. The Master Classes cover a wide range of key areas including: "Music Promotion'', "Social Media for Musicians," and "Release Planning" to name a few. Completion of the classes allows artists to receive credit and unlock points which can be used toward a variety of rewards and discounts."
Gleeson commented, "These days independent artists often behave like entrepreneurs, managing many if not all aspects of their own careers, beyond just the music. TuneCore Rewards places a roadmap to success in the artist's hands, eliminating the guesswork. We provide them with the tools and guidelines they need to grow their careers to avoid pitfalls and progress more quickly. It's the first program of its kind and I'm happy to announce it's completely free to TuneCore artists."
The award levels are broken out into: New, Emerging, Rising, and Breakout, with two exclusive top tiers - Accelerator and Legend. Artists can bypass the first 3 tiers and reach the 4th level by either earning over $1,000 from their music or distributing 25 releases.
Stated Nicholas Krus, Senior Director of Client Marketing, TuneCore, "We've loosely modeled the TuneCore Rewards program on those of airlines and hotels. The more you use and learn, the higher point level achieved, the more rewards you get. There's nothing else even close to it in the music industry, in any sector. It's the most thoughtful, value-driven program of its kind in the industry, and demonstrates TuneCore's continued commitment to help artists' grow their careers.
The Accelerator level features a 1on1 mentoring program by TuneCore's Artists and Partner Relations team. These artists will also gain analysis and advice on their social media presence, guidance on their listings in digital stores and streaming partners, as well as assistance with digital marketing and release planning for their music.
The top level of the TuneCore Rewards program for artists to achieve is Legend status. This is an exclusive tier for top earners. These independent artists will gain access to the Artist and Partner Relations Team, VIP Artist Support & Content Review, are offered exclusive education sessions and other high level artist support benefits.
About TuneCore
TuneCore is the global platform for independent musicians to build audiences and careers -- with technology and services across distribution, publishing administration and a range of promotional services. TuneCore Music Distribution services help artists, labels and managers sell their music through Spotify, Apple Music, Amazon Music, JioSaavn, Deezer, TikTok and more than 150 download and streaming stores worldwide, while retaining 100 percent of their sales revenue and rights for a low annual flat fee. TuneCore Music Publishing Administration assists songwriters by administering their compositions through licensing, registration, worldwide royalty collections, and placement opportunities in film, TV, commercials, video games and more. The TuneCore Artist Services portal offers a suite of tools and services that enable artists to promote their craft, connect with fans, and get their music heard. TuneCore, part of Believe, is headquartered in Brooklyn, NY, with offices in Los Angeles, Nashville, Atlanta, and Austin, and global operations in the UK, Australia, Japan, Canada, Germany, France, Italy, Russia, India, Brazil as well as the LATAM, Africa and SEA markets. http://www.tunecore.com