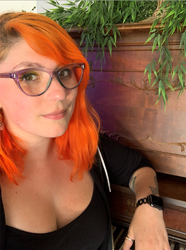 "Erica is that rare music executive who not only possesses the necessary business acumen to operationalize an artist support department but who also understands artists and their needs, because as an active member of the DIY/ indie music community for over 15 years, she's lived it," Andreea Gleeson
BROOKLYN, N.Y. (PRWEB) October 19, 2021
Leading independent DIY digital music distributor TuneCore has named Erica Clayton to the newly created position of Senior Director, Client Success for the company. The announcement was made today by Andreea Gleeson, Chief Executive Officer, TuneCore. The company is owned by global digital music company Believe, based in Paris.
Clayton joined the company in 2019 and was tasked with improving the company's artist support department. She quickly went to work on the team's operational processes, significantly increasing client satisfaction rates, and reducing wait times to less than four hours.
She then grew the department from a small team of local specialists in NYC to a global organization across three continents, utlizing both native speakers as well as cutting-edge AI translations in 29 languages. The company also expanded its methods of communications with artstis to include not only email, but also direct messages and comments on TuneCore's social media accounts.
Clayton also took over the legal administration support team in 2020, reorganizing it into Copyright Administration, implementing efficient DMCA and other claim handling processes that reduced reply times from a few months (or longer) to two days.
The newly created role gives her oversight of both the Artist Support and Artist & Partner Relations teams. Clayton will work closely with respected industry executive Amy Lombardi who currently heads the Artist & Partner Relations team. Together, they will develop enhanced VIP sessions and educational opportunities for artists, while connecting creators with access to tools to help them grow their audiences. The Artist & Partner Relations team will work directly with store partners to develop new creator and artist-centric features, providing early access to TuneCore artists whenever possible. Further, leveraging the company's relationship with Believe, the team will find and create growth opportunities for high potential artists with store partners as well as upstream opportunities with parent company, Believe.
Said Gleeson, "In the relatively short amount of time that Erica has been with TuneCore, she has wasted no time in building a global best in class artist support team. She is that rare music executive who not only possesses the necessary business acumen to operationalize an artist support department but who also understands artists and their needs, because as an active member of the DIY/ indie music community for over 15 years, she's lived it."
Clayton commented, "I'm truly proud of the work I've done thus far at TuneCore and have to commend my hard-working teams across the world – in Paris, Mexico City, Nashville and Brooklyn, for helping me build the most efficient and most effective artist support system among DIY digtital music distributors. The work we do impacts so many artists & labels, and as a musician myself, I deeply appreciate the opportunity to be part of their journeys."
Clayton's background sits solidly with support management, as a User Support Manager at Paperless Post and a Customer Service and Quality Manager at Shapeways, the global leader in on-demand 3D printing with operations in New York, New York and Eindhoven, the Netherlands. In 2017, Clayton earned the Six Sigma Yellow Belt, which was awarded to her by the American Society for Quality for "Excellence in Process Improvement/Management."
About TuneCore 
TuneCore is the global platform for independent musicians to build audiences and careers – with technology and services across distribution, publishing administration and a range of promotional services. TuneCore Music Distribution services help artists, labels and managers sell their music through Spotify, Apple Music, Amazon Music, Deezer, TikTok, Tencent and more than 150 download and streaming stores worldwide, while retaining 100 percent of their sales revenue and rights for a low annual flat fee. TuneCore Music Publishing Administration assists songwriters by administering their compositions through licensing, registration, worldwide royalty collections, and placement opportunities in film, TV, commercials, video games and more. The TuneCore Artist Services portal offers a suite of tools and services that enable artists to promote their craft, connect with fans, and get their music heard. TuneCore, part of Believe, is headquartered in Brooklyn, NY, with offices in Los Angeles, Nashville, Atlanta, and Austin, and operates globally through local teams based in the UK, Germany, France, Belgium, Italy, Russia, Brazil, Mexico, Nigeria, South Africa, India, Japan and Singapore across 4 continents. http://www.tunecore.com
About Believe
Believe is one of the world's leading digital music companies. Believe's mission is to develop independent artists and labels in the digital world by providing them the solutions they need to grow their audience at each stage of their career and development. Believe's passionate team of digital music experts around the world leverages the Group's global technology platform to advise artists and labels, distribute and promote their music. Its 1,270 employees in more than 50 countries aim to support independent artists and labels with a unique digital expertise, respect, fairness and transparency. Believe offers its various solutions through a portfolio of brands including TuneCore, Believe, Nuclear Blast, Naïve, Groove Attack and AllPoints.
Believe is listed on compartment A of the Euronext Paris stock exchange (Ticker: BLV.PA, ISIN : FR0014003FE9) http://www.believe.com