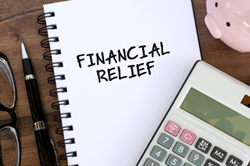 Debt relief programs offer ways for individuals who are financially struggling to help manage some of their debt by arranging for more affordable payments and eventually eliminate their debt.
LOS ANGELES (PRWEB) March 09, 2021
Professional debt consultants TurboFinance have released their informational guide for consumers looking to mitigate some of their personal debt with debt relief. Debt relief programs offer ways for individuals who are financially struggling to help manage some of their debt by arranging for more affordable payments and eventually eliminate their debt. This is typically accomplished by asking lenders to reduce monthly payments, extend repayment terms, lower interest rates, or even reduce your deficit by massive amounts.
The financial experts at TurboFinance have seen that there are primarily five forms of debt relief, which will vary in how long each one takes to compete; you can expect to spend three to five years rebuilding your credit and completely erasing debt. These five methods of debt relief are credit counseling, debt consolidation, debt management, debt settlement, and even bankruptcy. However, sometimes building a budget and managing your own money more closely can offer debt relief without the need for more drastic options. Consider working with a free nonprofit agency and managing your expenses if you think that option could work for you; only forty percent of consumers operate off of a budget, so having one will put you ahead of the curve.
Working toward a debt settlement involves collaborating with a third-party who will help negotiate with your creditors and work to allow you to pay off your debt in a single lump sum, TurboFinance writes in their guide. While this sounds wonderful it's important to understand that this method can cost money, potentially impact your credit score, or even lead to you being scammed. If you're looking toward this option, be sure to thoroughly research your chosen agency and verify that they have your best interests in mind before working with them. Additionally, you must be aware that some creditors may simply not agree to negotiate with you, and you may not reach a settlement that resolves every last bit of your debt and still leaves you with some. Still, this option will lower your debt amount, help you avoid bankruptcy, and work to buy you time with your collectors and creditors.
Having worked with many of the best debt relief companies, TurboFinance has found two partners to be exceptional in their commitment to consumers and their results: ClearOne Advantage and American Debt Relief. ClearOne Advantage will devise a personalized plan to fit within your budget and will not charge you any upfront fees. Instead, they will offer you online resources that help you train to improve your future finances and provide a portal where you can track your progress on a daily, weekly, or monthly basis. In working with them you will have nearly 15 years of experience and a team of dedicated professionals who have resolved over $3 Billion worth of debt for their clients. American Debt Relief is operated by aggressive negotiators who are familiar with the practices of creditors and can see several steps ahead, leading to clearer negotiations. Importantly, American Debt Relief is not able to help with all types of loans, and offers assistance for those struggling with auto repossessions, collection accounts, credit cards, hospital bills, retail cards, and unsecured loans. Sadly, this means that they are unable to work towards a settlement for auto loans, home loans, student loans, payday loans, and IRS debt. Still, American Debt Relief works to offer the advantage of an advisor to everyone, instead of letting it be reserved for only the wealthy who can afford it.
With years of experience helping adults of all ages navigate the world of money, TurboFinance can offer consulting on everything including Loans, Credit Cards, Money, and of course Debt.