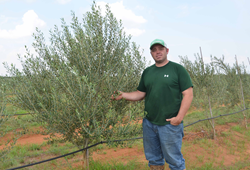 Tree loses reduced from 600 to 6 in one month with a Sustainable Agriculture program
Houston, Texas (PRWEB) October 01, 2014
The olive industry is increasing across Texas with over 40 member growers in the Texas Olive Grower Association and Council. Additionally, new growers are planting orchards each year.
Turf Feeding Systems installed one of their fertigation systems in August 2014 at the olive orchard on Texanna Henrichson Ranch in South Texas for owner Steve Coffman.
Mr. Coffman has now been on the sustainable agriculture program for six weeks and has seen dramatic results and new growth on all the trees. Coffman lost over 600 trees the month before the Turf Feeding Systems program started, and this month he has only lost six trees.
Mr. Coffman's trees have been faced with possible root rot disease and he thus had been losing many young trees. For that reason, Michael Chaplinsky, the president of Turf Feeding Systems, recommended that Mr. Coffman start the fertigation with a high rate of ProBiotic organic nutrients to build the soil health.
Chaplinsky's method will suppress disease as well as feed the plant high rates of organic L amino acids to promote plant growth. The fertigation system includes a special mixing tank so Mr. Coffman can mix a number of nutrients together and lightly inject the mixture with each irrigation cycle.
Mr. Coffman's orchard has 40 acres of one and two year old trees, irrigated with well water and drip irrigation. He will plant another 40 acres in the spring and plans as much as 400 acres of olives in the next ten years.
Mr. Chaplinsky promotes sustainable agriculture, which includes fertigation with irrigation and uses high rates of organic plant and soil nutrients to supplement the traditional synthetic fertilizers. He believes soil health is the key secret to increasing plant health, plant growth and water efficiency.
A new tree can cost $2.00 to replace, but when the cost of water, fertilizer and labor is added in the cost a young tree can cost another $2.00. The losses at Texanna Henrichson Ranch went from $2,400 to $24 with one month of sustainable agriculture from Turf Feeding Systems.
Even more impressively, all the trees have 10" to over 12" of new growth which almost doubles the size for the young trees. The trees will be ready for olive production sooner with a bigger harvest.
Mr. Chaplinsky also installed a fertigation system on another olive farm in the area last week for Ms. Kerry Houston, after she saw the tree growth on Mr. Coffman's farm.
Ms. Houston is very keen on fertigation and sustainable practices for her farm. Many of her two year old trees are bearing olives already, and she looks forward to increasing tree growth like Mr. Coffman with sustainable agriculture and fertigation.
Ms. Houston started the ProBiotic nutrient program last week with the L amino acid nutrients to push new tree growth. Her farm has good water, healthy soil and she wants to become one of the top growers in Texas.
"It is wonderful to watch a woman with passion start a new agriculture business," notes Chaplinksy.
Mr. Chaplinsky told both Mr. Coffman and Ms. Houston to expect to be surprised with the health and the growth, but they were still astonished.
Mr. Chaplinsky knows how to implement sustainable agriculture into any irrigated farm or crop anywhere in the world to increase crop production and reduce costs. He says 'the secret is all about plant and soil health bringing nature back into growing plants.'
Bio:
Michael Chaplinsky – President / Founder Turf Feeding Systems
Turf Feeding Systems - Houston Texas – USA - The world leader in packaged fertigation systems (fertilizer injection into irrigation) for golf, sports fields, landscapes, resorts and agriculture.
Mr. Chaplinsky has worked for over 28 years implementing water efficiency and sustainability into all types of irrigated projects around the world. He speaks at many conferences and lectures on sustainable soils, landscapes, golf and agriculture.
Mr. Chaplinsky has worked with the top scientists and engineers on project that include construction, revegitation, bio-remdiation and beach erosion. He brings technologies and practices together to promote plant and soil health, and create the values and benefits of sustainability.