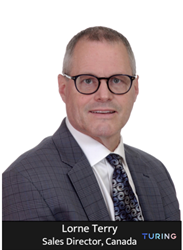 "Turing AI is excited to enter the physical security industry in Canada. Our goal is to provide the same level of opportunities and support, as well as the A+ rated customer service, for our Canadian distributors and end-users as we have in the rest of the world." – Lorne Terry, Turing AI, Canada
SAN MATEO, Calif. (PRWEB) November 04, 2021
U.S-based Turing AI today announced the expansion of their operations into Canada. While many clients and distributors are based in the United States, Turing AI serves a global customer base under the hands-on leadership of expert industry-strategist Lorne Terry, Sales Director for Turing AI, Canada.
"Lorne has been an impressive leader in the physical security industry for 25 years. The Executive Team at Turing is excited to have his experience and leadership at the forefront of expanding Turing AI's distribution into Canada. The relationships he's built over the years as well as his thorough knowledge of the Canadian physical security market and data privacy regulations gives us a competitive edge as we break into the market. Lorne is a welcome addition to the Turing AI team," said Yi Jin Ph.D., Vice President of Growth and Product Marketing at Turing AI.
"Turing AI is excited to enter the physical security industry in Canada. Our goal is to provide the same level of opportunities and support, as well as the A+ rated customer service, for our Canadian distributors and end-users as we have in the rest of the world. I'm excited to have the opportunity to lead the way for Turing AI in this market," commented Mr. Terry.
Turing AI is already prepared to serve the Canadian physical security market, closing distribution deals for Turing products with ADI and Wesco/Anixter in Canada. Currently Turing AI's end-to-end AI video surveillance software, like Turing Vision, are available through multiple distributors in the United States, serving many security integrators across the country.
About Turing Video: Founded in the heart of Silicon Valley in 2017, Turing Video is the winner of the 2021 A.I Excellence Award (Business Intelligence Group), a 2021 CRN Emerging Vendor Award winner, and was recognized as a finalist for the 2021 Edison Awards. Turing's mission is to reimagine the safety and security industry with AI. At our very core, we develop complex, machine learning models to integrate with industry-proven robotics, video analytics, and health solutions to create interconnected AI-enabled solutions unlike any other in the world. Our diverse team of engineers and entrepreneurs creates an environment rich in ideas, explorations, and solutions.