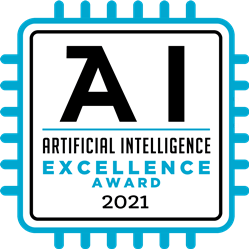 "Companies are quickly becoming reliant on AI...we are so proud that such an incredible group of companies won this year's program. Congratulations to all the creativity and hard work of every employee involved," Maria Jimenez, chief nominations officer for Business Intelligence Group
SAN MATEO, Calif. (PRWEB) March 29, 2021
Turing Video was among only 24 companies in the United States, and one of only three companies in the Computer Vision category, to be awarded the Business Intelligence Group's Inaugural Artificial Intelligence Excellence Award. This business awards program recognizes those organizations, products and people who bring Artificial Intelligence (AI) to life and apply it to solve real problems.
"The role of Artificial Intelligence was already transforming nearly every aspect of our lives and culture before the pandemic," said Maria Jimenez, chief nominations officer for Business Intelligence Group. "Companies are quickly becoming reliant on AI as they build new processes, launch new services or deploy the AI of strategic vendors. We are so proud that such an incredible group of companies won this year's program. Congratulations to all the creativity and hard work of all every employee involved."
"Since our founding, we've worked diligently to create the most comprehensive and efficient A.I.-enabled Computer Vision solution on the market. Since this time last year, we made a hard pivot to address the COVID-19 safety crisis we knew our customers and prospective customers would be facing. We were able to create the #1 COVID-19 Workplace Solution, the Turing Shield, using our existing hardware and by expanding our A.I.-driven software capabilities deploying more than 10,000 units of the Turing Shield, conducting over 20 million temperature scans, and nearly 100,000 potential COVID-19 cases identified for our clients. To be recognized for these achievements with this Business Intelligence Group A.I. Excellence Award is truly an honor," said Rick Gouveia, Chief Revenue Officer at Turing Video.
See the Turing Shield in action.
ABOUT TURING VIDEO
Turing Video was founded in the heart of Silicon Valley in 2017. Our team's vision is to utilize AI and robotics to bridge the space between security and technology to advance industries and human capabilities. At our very core, we develop complex, deep-learning machine learning models to integrate with industry-proven robotics, video analytics, and health solutions to create interconnected AI-enabled IoT (Internet of Things) solutions unlike any other in the world. Our diverse team of engineers and entrepreneurs create an environment rich in ideas, explorations, and solutions.