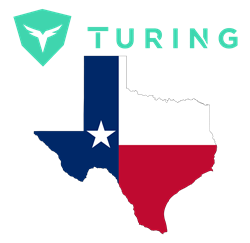 "After helping thousands of businesses safely reopen during COVID-19, we know what it takes for people to get back their feet. This storm is another blow to the citizens of Texas and to the businesses they rely on. We're here to help."
SAN MATEO, Calif. (PRWEB) February 23, 2021
Turing Video watched with the nation as more than 3 million people in Texas lost power from winter storm Uri. Lives have been lost, and thousands are still without heat, power, or clean water.
While the immediate need for Texas is to reinstate power to those still without, provide clean water, and shelter for those living in freezing conditions, large and small businesses across a range of industries face the added dilemma of closing their doors just as they were recovering financially from the economic hardships of the COVID-19 pandemic.
"We've watched the widespread outages caused by the storm after it devastated the power grid in Texas. After helping thousands of businesses safely reopen during the COVID-19 pandemic, we know what it takes for a business to get back on its feet, and that this storm is another catastrophic blow to the citizens of Texas and to the businesses they rely on," said Yi Jin, Ph.D., VP of Marketing for Turing Video.
Turing Video has distributed more than 1,000 units of its COVID-19 Workplace Solution, the Thermal Temperature Scanner known as the Turing Shield, to city government buildings, healthcare facilities, schools, and health systems across Texas. Without power, these systems are offline leaving businesses unable to protect themselves and their employees.
"Businesses that just reopened are now shuttering their doors again. Without power, heat, and in some cases running water they can't provide a safe working environment for their employees, let alone serve their customers," commented Rick Gouveia, VP of Sales for Turing Video.
Turing Video wants their customers to feel as secure as possible during and after this time of peril.
"Our customer service reps are standing by 24/7. When the power is restored and our customers are ready to bring their Turing Video security and COVID-19 workplace solutions back online, we'll be there to walk them through it. Getting back online is literally the last thing they should have to worry about. Our Customer Support Team is here to help, said" Yi Jin.
HOW YOU CAN HELP OR GET HELP
Turing Video stands with Texas. That's why we've sent 84 cases of water to the Texas Division of Emergency Management for distribution. If you're looking for ways to help the people of Texas right now, or if you're in Texas and need help, we've gathered some resources below:

CONTACT US
Turing Video Us-based customer support is here to help. Call 866.816.7426 when you're ready to reopen and we'll get you back online in minutes. Don't worry, we got this, and we'll get through it together.
ABOUT TURING VIDEO
Turing Video was founded in the heart of Silicon Valley in 2017. Our team's vision is to utilize AI and robotics to bridge the space between security and technology to advance industries and human capabilities. We develop complex, deep-learning machine learning models to create interconnected AI-enabled IoT (Internet of Thing) solutions unlike any other in the world. Since our inception, we have expanded our footprint around the world where Turing's products have become key assets for managing operations at leading real estate companies, top 100 retails, casinos and gaming, and corporate data centers. Turing Video has been nominated for the Business Intelligence Group Innovation Award in Artificial Intelligence.