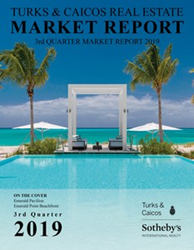 PROVIDENCIALES, Turks & Caicos Islands (PRWEB) November 10, 2019
Led by our record-breaking sale of The Residence on Parrot Cay at $27,000,000, Q3 2019 posted an impressive gain over 2018 (up 38.8% from $64,785,600 to $89,918,500).
Historically, Q3 is our sleepiest quarter, but it has become apparent over the past few years that TCI is now indeed a year-round market for both tourism and real estate, and not just a seasonal one, with strong summers and improving shoulder month performance.
Overall, the market after three quarters is up 16.47% over last year in $ Volume ($241,145,500 vs. $207,048,195). This dollar volume is more than the market did in all of 2017! Average price is up 30% from $692,469 to $903,167.
The Single Family Home sector is the big winner, led as stated by the Parrot Cay sale and augmented by several other Significant Sales, including Prince's Island Estate at 10.8M. While the Condominium sector was ostensibly down 28.42% from $56,679,500 to $40,573,000, these numbers will normalize within a couple years once the pending Rock House sales (construction commenced July 2019), and Ritz-Carlton projects are completed, with other potential projects in the wings.
It is also notable that our average days on the market are now less than a year (340 days), which is a good sign of market health. There is solid, but not overheated demand, with few short-term investors but rather long-term lifestyle purchasers and a handful of investors targeting a longer horizon. And, while the luxury sector has certainly led the way, we are seeing strong activity in all price segments, which is another good sign of overall market health.
We look forward to reporting to you in full in our year-end report. As always, don't hesitate to reach out if we can be of assistance.