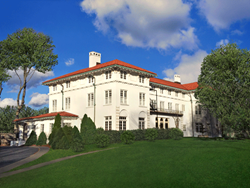 "The opening of our Women's Program marks an important opportunity to redefine our industry's expectations of gender-specific addiction treatment for Women. It means new hope for the families of young women facing this disease," comments David Vieau, CEO
New Haven, Connecticut (PRWEB) April 14, 2016
Turning Point, a prominent addiction treatment and recovery program for young men, is excited to announce one new name and twice the ability to serve. After years of planning and preparation, Turning Point becomes Turnbridge and extends its renowned treatment approach to young women facing addiction and co-occuring disorders. The Turnbridge Women's Program is set to open its doors in June of this year.
"The opening of our Women's Program marks an important opportunity to redefine our industry's expectations of gender-specific recovery programming for Women. It means new hope for the families of young women facing this disease," comments David Vieau, Founder and C.E.O. of Turnbridge.
The Turnbridge Women's Program is tailored to address the specific relationship, trauma, and identity issues faced by young women with addiction, and will be entirely separate and distinct from its male counterpart. The program's experiential therapies and gender-specific activities are designed to foster a lasting sisterhood of support. This noteworthy occasion provides Turning Point with the opportunity to announce its new name, Turnbridge.
"Over time, we've realized that many other healthcare facilities use the name Turning Point and this has created some confusion for families and professionals seeking out our unique program. The name, Turnbridge, allows our cutting-edge work to stand apart while preserving as much brand equity as possible," explains Vieau. "Our mission, distinguishing philosophy, and ceaseless commitment to quality care will remain unchanged."
About Turnbridge
Founded in 2003, Turnbridge is a highly efficacious and innovative integrated residential and outpatient clinical therapy system for clients afflicted with substance abuse and related co-occurring mental health issues. Based in New Haven, CT, the company currently operates 8 facilities, providing a three-phased approach of integrated behavioral programming and outpatient clinical therapy that allows clients to progress from dependence to independence. Clients at Turnbridge develop the skills, character, and mental momentum needed to move assertively into a fulfilling and productive life after graduation. For more information, visit http://www.tpaddictiontreatment.com