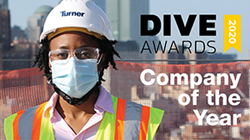 NEW YORK (PRWEB) December 09, 2020
Turner Construction Company has been selected as Company of the Year by Construction Dive. For the Dive Awards of 2020, Construction Dive also selected Essential Construction Workers as People of the Year, giving everyone in the construction industry another reason to be proud.
Construction Dive is part of Industry Dive — a leading business journalism company. Industry Dive selects the most impactful achievements, people and companies. In announcing the selection, Industry Dive Editor-in-Chief Davide Savenije said, "2020 was no ordinary year for business. After reporting on how people and companies adapted to the new normal this year, we decided our annual Dive Awards needed to recognize leadership in a time of unprecedented crisis. The Dive Awards for 2020 highlight the stories of the organizations and leaders who met the moment by showing empathy for the human condition, agility amid uncertainty and disruption, and resilience in the face of adversity."
Construction teams are a diverse group made up of different trades, backgrounds, experiences, races, gender identities, religious beliefs, and political affiliations. This award recognizes Turner's efforts in creating and maintaining a work environment that is safe, welcoming and inclusive. This active caring environment establishes a physically and emotionally safe workplace for everyone.
About Construction Dive
Construction Dive provides in-depth journalism and insight into the most impactful news and trends shaping the construction and building industry. The daily email newsletter and website cover topics such as commercial building, residential building, green building, design, deals, regulations and more.
Construction Dive is part of Industry Dive is a leading business journalism company. More than 11 million decision-makers across 21 competitive industries rely on Industry Dive's exclusive insight and analysis delivered through 22 publications.
About Turner Construction Company
Turner is an international construction services company. Founded in 1902, Turner first made its mark on the industry pioneering the use of steel-reinforced concrete for general building, which enabled the company to deliver safer, stronger, and more efficient buildings to clients. The company continues to embrace emerging technologies and offers an increasingly diverse set of services. With an annual construction volume of US$12 billion, Turner is the largest builder in the United States, ranking first in the major market segments of the building construction field, including healthcare, education, sports, commercial, and green building. The firm is a subsidiary of HOCHTIEF, one of the world's leading international construction service providers. For more information, please visit http://www.turnerconstruction.com.