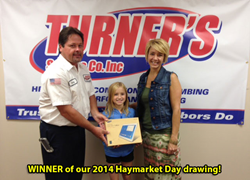 Haymarket, VA (PRWEB) September 29, 2014
On Saturday September 20, 2014, the historic Town of Haymarket held their 26th annual Haymarket Day from 9.30 am to 5 pm. The event attracted virtually all the members of the community and several visitors and guests from neighboring towns and cities in the states of Virginia and Pennsylvania. This year's Haymarket Day was held along the popular Washington St. Due to the construction going on along this road, two sections of the road were closed for the event.
The Town of Haymarket was founded in the year 1799, 23 years after the independence of the United States. It is incorporated in the State of Virginia and it lies in the western portion of the Prince William County. Haymarket occupies one and a half square miles and has a total population of a little over 1800 people. This town is located along the historical 175 mile trail that runs through Hallowed Ground – from Gettysburg Pennsylvania to Charlottesville Virginia.
The Haymarket Day was organized by Spend the Day in Haymarket. This company has the charter to create increasing awareness about Haymarket's retail and corporate business offerings. It also enlightens people about the warm and pleasant atmosphere of this town in order to promote its economic development. This is accomplished through active collaboration between the company, the authorities of the Town of Haymarket and various local businesses. They also carry out enlightenment campaigns to increase participation in the historic Haymarket Day.
The annual Haymarket Day takes place on the third Saturday of September every year. During this event several businesses set up vendor booths along the Washington St. and on the Huntington Path Road including the large grass lot at 6700 Huntington Road.
One of the prominent companies at this year's event was Turner's Service Co., a Manassas, VA heating and air conditioning company. Turner's Service Co. set up a commercial vendor booth at the Haymarket day on September 20, 2014 to promote their products and services to the locals of this event. And their vendor booth attracted a fairly large number of visitors. One of the main attractions was the drawing Turner's hosted at their booth for a brand new Samsung Tablet give-away. At the end of the day a young girl named Molly was announced the winner of this brand new tablet.
Apart from the vendor booths, three stages were by mounted by the organizers to entertain visitors, guests and neighbors. One was located at Guiseppe, and another one was at the beer garden by the Town Hall. The third stage for the local talent show was situated at the grass lot on Huntington Path Road. A special area was also reserved for kid's to have a great time at Winterham. The new layout used for the Haymarket Day 2014 event made it a very unique one and this was complemented by cool sunny weather.
Media Contact:
Turner's Service Co. Inc.
11512 Robertson Drive
Manassas, VA 20109
Office: 703.468.8849
Direct: 703.361.0816
http://www.TurnersServiceCo.com