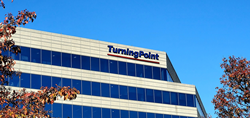 "Donating to DC Central Kitchen is a worthy endeavor as they not only feed the hungry, they also provide jobs training through their Culinary Job Training Program," he said. "Their approach to ensuring access to healthy food and economic opportunities is a model we are pleased to support."
ROCKVILLE, Md. (PRWEB) February 07, 2020
This holiday season TurningPoint Global Solutions continued its ongoing financial support for the https://dccentralkitchen.org DC Central Kitchen, a not-for-profit organization that provides food, training, and other assistance to help break the cycle of hunger and poverty. During a corporate-sponsored holiday fund drive, TurningPoint partners matched employee contributions to raise more than $5,300 in support of DC Central Kitchen's mission.
TurningPoint CEO Mr. Bangalore Shivacharan, who has volunteered his time at DC Central Kitchen for more than a decade, notes the importance of the work the organization does.
"Donating to DC Central Kitchen is a worthy endeavor as they not only feed the hungry, they also provide jobs training through their Culinary Job Training Program," he said. "Their approach to ensuring access to healthy food and economic opportunities is a model; we are pleased to support."
This marks the fifth year TurningPoint and its employees have donated to DC Central Kitchen.
ABOUT DC CENTRAL KITCHEN
As the nation's first and leading community kitchen, DC Central Kitchen develops and operates social ventures targeting the cycle of hunger and poverty. The organization's life-changing ventures provide culinary training to jobless adults, turn wasted food into balanced meals for shelters and nonprofits, expand access to healthy food, and provide healthy, scratch-cooked meals in low-income schools. These efforts have been recognized with the leading national award for healthy school food innovation, The Golden Carrot, the Washington Business Journal's Green Business Award for Innovation, and the DC Chamber of Commerce's Community Impact Award. To learn more, visit http://www.dccentralkitchen.org or follow @dcck on Twitter.
ABOUT TURNING POINT GLOBAL SOLUTIONS
Headquartered in Rockville, MD, TurningPoint provides software engineering and professional IT services for a diversified group of commercial and government customers. TurningPoint also provides telecom lifecycle and expense management software and services for wireless and wireline services, with a focus on federal and other public sector organizations. TurningPoint is appraised at CMMI Maturity Level 4 for Development and CMMI Maturity Level 3 for Services. For more information, visit http://www.tpgsi.com.