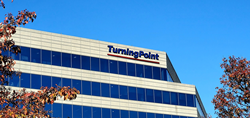 "Along with GDIT, our team's unmatched understanding of the NPPES solution – from the system itself to the supporting enumeration service desk – positions us perfectly to further optimize NPPES well into the future."
ROCKVILLE, Md. (PRWEB) October 22, 2020
TurningPoint Global Solutions announced today that it has retained its position supporting the CMS National Plan and Provider Enumeration System (NPPES) as a significant subcontractor to RELI Group.
TurningPoint has been the prime contractor for NPPES since 2015, when the program was set aside for small businesses. Because the procurement was again released only to small businesses, TurningPoint's growth precluded another prime bid. Instead, TurningPoint joined RELI Group, a growing and proven CMS small business vendor, as a significant subcontractor. The team also retains General Dynamics Information Technology (GDIT).
David Hughes, TurningPoint's Managing Partner, says agreeing to join RELI Group's team was a wise choice.
"RELI Group knows CMS and offers mature program management expertise," said Hughes. "Along with GDIT, our team's unmatched understanding of the NPPES solution – from the system itself to the supporting enumeration service desk – positions us perfectly to further optimize NPPES well into the future."
The team offered the Center for Program Integrity (CPI) a high value, low-risk solution for the mission-critical NPPES program. We anticipate working with CPI to move NPPES to the cloud and to implement ongoing enhancements through Agile development, ongoing system maintenance, user support, and program efficiencies. The new contract extends to September 2025 if all options are exercised.
ABOUT TURNING POINT GLOBAL SOLUTIONS
Headquartered in Rockville, MD, TurningPoint provides software engineering and professional IT services for a diversified group of commercial, state, and federal customers. TurningPoint also provides telecom lifecycle and expense management software and services for wireless and wireline services, with a focus on federal and other public sector organizations. The company is appraised at CMMI Maturity Level 4 for Development and CMMI Maturity Level 3 for Services. TurningPoint is ISO 9001:2015 certified for quality management and IS0 27001:2013 certified for data center hosting. For more information, visit company website.