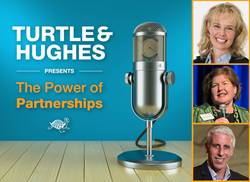 Not only is this an exciting opportunity to work with one of the world's pre-eminent battery experts, but it also reinforces our commitment to an area of the marketplace where the economy and our future lie. -- Turtle & Hughes CEO Kathleen Shanahan
LINDEN, N.J. (PRWEB) November 10, 2021
Actionable strategies for a greener electrical grid was the topic of a leadership conversation among Kathleen Shanahan, CEO at Turtle & Hughes; Christina Lampe-Onnerud, Founder and CEO of Cadenza Innovation; and Luis Valls, President of Turtle's Electrical Division, just released on Turtle's new podcast, The Power of Partnerships. https://www.turtle.com/roller/TrendsandTechnology/entry/the-power-of-partnerships-cadenza
Energy storage solutions for clients across industry are at the heart of the supplier relationship between Turtle, one of the leading electrical and industrial distributors in the nation, and Cadenza Innovation, a recognized source of safe, high-performing, low-cost lithium-ion (Li-on) batteries. The company's award-winning battery technology – including a patented and UL-registered supercell design– can be used to increase energy efficiency and reduce dependence on fossil fuels.
"Our clients expect cleaner, more affordable, reliable and secure energy. Not only is this an exciting opportunity to work with one of the world's pre-eminent battery experts, but it also reinforces our commitment to an area of the marketplace where the economy and our future lie," said Shanahan.
Lampe-Onnerud urged listeners to take charge of the tools that are already available to them to make a difference in climate outlook. "We can show people that we are not powerless. As consumers and business leaders we make choices every day and can take control of our energy and carbon footprint," she said.
The collaboration is part of Turtle's ESG commitment, led by Jayne Millard, Executive Chairman of the Board at Turtle & Hughes, and her longstanding advocacy of sustainability, diversity and ethical governance.
"Jayne has been a visionary in sustainable business practices and strategies to transform the electrical power system. Christina is a global spokesperson for ethical change. Together, our companies can advance sustainability and a more diverse, innovative supply chain to achieve it," Shanahan said.
These initiatives tackle the challenges of an aging infrastructure, strained delivery systems, and the effects of climate change. "Battery storage is more commercially viable than ever before," Valls pointed out. "Batteries can absorb power from sources such as solar and wind during the day, and if stored properly, can be deployed at lower cost during high usage time. They are a flexible, versatile and lower price point resource for transportation, micro grids and Electric Vehicle charging stations."
Turtle delivers energy storage, lighting and switchgear solutions to enhance efficiencies in airports, subways and train lines in major cities across the country. It has helped build smart cities and micro grids such as Hudson Yards, and has partnered with another world leader, ChargePoint ®, to build EV charging stations.
"Batteries are one of the unsung heroes in electrification," Lampe-Onnerud added. She cited a forecast that energy needs will double in the next 5-7 years. "We have demonstrated that we can reduce the energy footprint, but we have grown more dependent on electricity. It will be critical to stabilize our community grids while we scale renewable energy sources," she said.
Lampe-Onnerud is the former founder, international chairman and CEO of Boston-Power, and previous chairwoman of the World Economic Forum's Global Future Council on Energy Technologies. A sought-after keynote speaker for conferences worldwide, her insights into battery technology, climate change and the transformation to cleaner sources of energy have appeared in many prominent business media, including the Wall Street Journal and Inc. Magazine.
About Cadenza Innovation
Founded in 2012 by lithium-ion battery experts with more than 125 patents, Cadenza Innovation is capitalizing on its intellectual property, field-proven operational and mass production expertise and partner network to establish itself as a leader in safe, low-cost and energy dense storage solutions. Licensing its UL-registered technology for immediate access, company executives have held key roles at lithium-ion battery cell, pack and system provider Boston-Power, investment firm Bridgewater Associates, consulting firm Arthur D. Little and other globally respected organizations. Cadenza Innovation is funded by the U.S. Department of Energy, the states of New York, Connecticut and Massachusetts, Golden Seeds and private investors. The company's corporate headquarters and advanced technology development labs are based in Connecticut. For more information, visit http://www.cadenzainnovation.com.
About Turtle & Hughes
Turtle & Hughes has close to 100 years of market experience and ranks among the top 20 electrical distribution companies nationwide. It is an independent, woman-owned business that services the industrial, construction, commercial, electrical contracting, export and utility markets. Turtle & Hughes Integrated Supply division (THIS), services Fortune 100 companies operating nationwide, and in Canada, Puerto Rico and Mexico. http://www.turtle.com