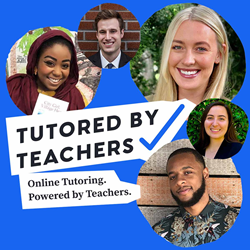 "COVID has widened learning loss disparities and nowhere is that more true for academic and SEL outcomes than for BIPOC and low income students where studies project a three to five month gap in learning - twice the rate as their white peers."
NEW YORK (PRWEB) May 17, 2021
Tutored by Teachers (TbT), a public benefit company and educational support platform, launches a national online tutoring program that pairs teacher-led virtual support with students in school-based small groups, setting a clear aim at reducing learning loss and shouldering teacher support as public schools shift back to in-person learning since COVID shutdowns.
With a growing list of school partners in New York, New Jersey, Mississippi, Alabama, and California and two additional states to begin this summer, early metrics show TbT's impact on student growth in socio-emotional learning (SEL) and academic gains with nearly 4,000 student hours logged to-date.
"According to the evidence, high dosage small group tutoring is easily the most impactful tool we can deploy to close the opportunity gap," said Shaan Akbar, co-founder of TbT and former Disney and NBCUniversal video game executive. "COVID has widened learning loss disparities and nowhere is that more true for academic and SEL outcomes than for BIPOC and low income students where studies project a three to five month gap in learning - twice the rate as their white peers."
For certified teachers seeking secondary employment, TbT builds capacity by offering $36 an hour in additional pay. The platform offers a structured user experience with two hours of tutoring up to five days a week without disrupting the school day. The company is already on track to serve 1,000 students this year with its Summer Academy and has already secured district-level customers for the 2021-2022 school year, a significant opportunity to better support educators.
"Tutoring by real, certified classroom teachers drives twice the academic gains as tutoring by college graduates and peers," said Rahul Kalita, co-founder of TbT and edtech executive with experience spanning the College Board and the Department of Education. "The pandemic was a clarion call for Shaan and I to get moving on our concept to create a sustainable business with heart.
"We want to alleviate some of the burden of our classroom teachers who do not have the bandwidth to support every child, especially during COVID."
With $500,000 in seed funding from a two-thirds POC investor base, TbT received noteworthy support from edtech investor Deborah H. Quazzo of GSV Ventures; education entrepreneur Sidharth Kakkar, formerly Freckle Education; and Peter Gorman, ed reformer and former superintendent, who urged states and districts to invest in a national tutoring program and expressed full confidence that TbT is the vehicle to make that happen.
"I joined as an advisor because of their mission and they are a values-aligned organization with deep experience in education and technology," Gorman said. "It was a no-brainer for me."
Diversity, equity, and inclusion (DEI) are built into the company DNA. With 80% of the student base identifying as BIPOC, TbT's teacher base largely identifies as a person of color. Students interact with highly qualified teachers where over three-fourths hold graduate degrees in education and 40% are certified in special education. Teachers also receive DEI training through Future Leaders Incubator, a New York based nonprofit organization committed to increasing equity and inclusion best practices in schools.
---
About Tutored By Teachers
Tutored by Teachers (TbT) is a public benefit company that seeks to close the opportunity gap and advance equity in education by supporting high needs students in underserved communities. In the process, TbT empowers our nation's teachers to express their full potential by tutoring students and supporting their peers in the classroom. To learn more about TbT, visit tutored.live for more information.
###